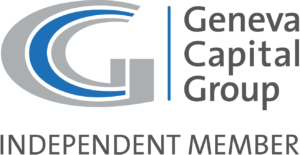 International Capabilities for an Interconnected World
SSG Capital Advisors is a member of Geneva Capital Group (GCG), a global network of M&A advisory, investment banking and corporate finance firms. GCG member firms assist companies and business owners across many industries and in many countries with essential decisions related to M&A, corporate finance, strategy, and international expansion.
GCG member firms have concluded over 5,000 transactions, with a cumulative value of over USD 75.5 billion and a 30% cross-border rate. This international alliance of investment banks and corporate finance firms enhances our service by combining the personal attention of our boutique investment banking platform with seamless, global access to investment banking professionals and capital providers on the ground in every economic region worldwide.
Geneva Capital Group is a unit member of GGI Global Alliance AG (GGI), the leading global alliance of professional and independent accounting, law, and consulting firms. GGI has over 625 member firms with 870 offices in 126 countries, generating an annual cumulative fee income exceeding USD 6 billion and counting almost 30,000 professional staff.
*GCG and GGI statistics as of December 2022