SSG Acts as Private Placement Agent to Cotton Holdings, Inc.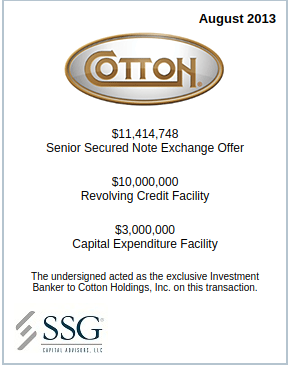 SSG Capital Advisors, LLC ("SSG") acted as the exclusive investment banker to Cotton Holdings, Inc. ("Cotton" or the "Company") in the placement of a financing package which enabled the Company to extend the maturation of expiring senior notes and generate additional liquidity for growth. The transaction closed in August 2013.
Cotton Holdings, Inc., headquartered in Katy, TX, is a privately-held provider of infrastructure services such as disaster restoration, construction, roofing, consulting, temporary housing and integrated services. The Company offers a one-stop solution for complete disaster recovery and logistics services for complex, large-scale infrastructure projects in North America and beyond. Cotton is one of a handful of companies in the U.S. that is capable of handling multi-million dollar disaster remediation projects and, as an example, was instrumental in providing critical services in the aftermath of Hurricane Sandy. The Company is also rapidly growing its temporary housing division to support the oil and gas industry's exploration of domestic shale formations. The continued growth of Cotton's temporary housing business, coupled with the significant working capital required to complete large scale disaster remediation work, created the need for additional liquidity in the business.
SSG quickly went to market and sourced multiple term sheets that contemplated a variety of recapitalization alternatives. SSG, working closely with Company management and the Board, helped facilitate negotiations among key stakeholders that enabled the Company to successfully complete an $11.4 million Senior Secured Note Exchange Offer with existing bondholders. The new bond indenture extended the maturity and also gave the Company flexibility to source a new senior credit facility to provide growth capital. SSG canvassed the senior credit markets and delivered a $10.0 million revolving credit facility and $3.0 million capital expenditure line.
Other professionals who worked on the transaction include:
Darcy R. White, Louis R. Hernandez III, Shelia Kang and Erin N. East of Paul Hastings LLP, counsel to Cotton Holdings Inc.; and
Maria Merritt and Chris D. Molen of King & Spalding LLP, counsel to Lender