SSG Acts as Private Placement Agent to Secure Debt Financing for Watermill Group's Acquisition of Superior Tube and Fine Tubes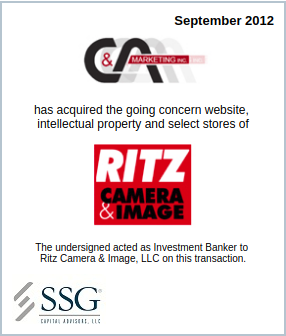 We are pleased to inform you that SSG Capital Advisors, LLC ("SSG") acted as the exclusive investment banker to Watermill Group ("Watermill") in the placement of a financing package to fund its acquisition of Superior Tube Company, Inc. ("Superior") and Fine Tubes Ltd. ("Fine Tubes"). The transaction closed in September 2012.
Watermill is a strategy driven private investment firm based in Boston that has closed over 60 transactions in its 34 year history. Watermill executed a letter of intent to acquire Superior and Fine Tubes and shortly thereafter retained SSG to help deliver creative financing alternatives in light of the complexity of the transaction, including the fact that over half of the collateral base was located in the United Kingdom. Superior and Fine Tubes are both leading manufacturers of customized small diameter tubular products for a variety of desirable end markets. They fabricate seamless and welded tubing from high-value specialty alloys including stainless steels, titanium, and high nickel alloys. Superior's operations are in Collegeville, PA while Fine Tubes is located in Plymouth, U.K. Both companies are owned by Superior Group, Inc., a family office holding company with controlling positions in a variety of manufacturing businesses.
SSG quickly went to market and sourced multiple term sheets. SSG worked closely with Watermill to negotiate a transaction structure that included a senior working capital lender and a senior term loan lender that would both provide financing in the United States and internationally. The senior term loan lender also was able to lend beyond the fixed asset collateral pool and minimize amortization at the outset of the term so that more capital could stay in the business to support Watermill's growth strategy. The total financing package was $42 million.
About SSG Capital Advisors
SSG Capital Advisors is a leading national boutique investment bank that assists middle-market companies through complex financial situations. SSG provides its clients with comprehensive advisory services in the areas of private placements, mergers and acquisitions, financial advisory, financial restructurings and valuations. We have a proven track record of over 200 transactions in North America and Europe and are among the leaders in the industry.
SSG has initiated, structured and negotiated numerous financing transactions at every level of the capital structure on behalf of both growing businesses and those in transition. We focus on providing solutions that are customized to the performance of the business and the objectives of the business owner.
Securities are offered through SSG Capital Advisors, LLC (Member SIPC, Member FINRA). All other transactions are effectuated through SSG Advisors, LLC, both of which are wholly owned by SSG Holdings, LLC. SSG is a registered trademark for SSG Capital Advisors, LLC and SSG Advisors, LLC. SSG provides investment banking, merger, acquisition and divestiture services, financial advisory, private placement services, restructuring advisory and valuation opinions. Past performance is no guarantee of future results.