SSG Acts as Private Placement Agent to Secure Debt Financing for Watermill Group's Acquisition of Tenere, Inc.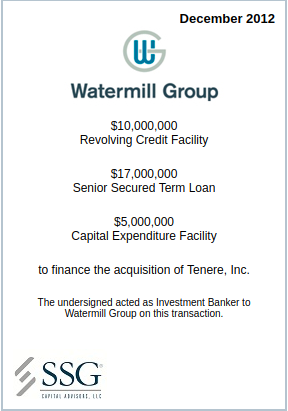 We are pleased to inform you that SSG Capital Advisors, LLC ("SSG") acted as the exclusive investment banker to Watermill Group ("Watermill") in the placement of a financing package to fund its acquisition of Tenere, Inc. ("Tenere"). The transaction closed in December 2012.
Watermill is a strategy-driven private equity firm based in Boston, MA that has closed over 60 transactions in its 34 year history. Watermill executed a letter of intent to acquire Tenere and, shortly thereafter, retained SSG to help deliver creative financing alternatives in light of the fact that Tenere required significant capital to fund growth in addition to the capital necessary to consummate the acquisition. Tenere is a full-service designer and fabricator of complex metal and plastic parts and assemblies. Its highly engineered machined and electromechanical components are critical to its customer base that includes leading companies in the cloud computing and network communications sectors as well as in the aerospace, medical and industrial segments. Tenere operates three facilities located in Dresser, WI, Somerset, WI and Lakewood, CO.
SSG worked closely with Watermill to negotiate a transaction structure that included a senior working capital revolver as well as a senior term loan. In order to support growth in Tenere's cloud computing and network communications business, Watermill intends to invest in more manufacturing capacity. As a result, SSG also helped source a capital expenditure line. The total financing package was $32 million.
SSG has initiated, structured and negotiated numerous financing transactions at every level of the capital structure on behalf of both growing businesses and those in transition. We focus on providing solutions that are customized to the performance of the business and the objectives of the business owner.
About SSG Capital Advisors, LLC
SSG Capital Advisors is an independent boutique investment bank that assists middle-market companies and their stakeholders in completing special situation transactions. We provide our clients with comprehensive advisory services in the areas of mergers and acquisitions, private placements, financial advisory, financial restructurings and valuations. SSG has a proven track record of closing over 200 transactions in North America and Europe and are one of the national leaders in the industry.