SSG advises Advanced Communications, Inc., in the sale of its assets to Resilience Capital Partners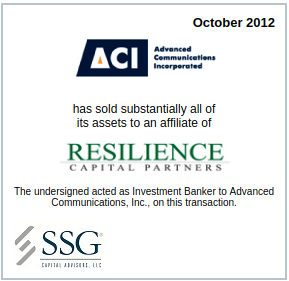 We are pleased to inform you that SSG Capital Advisors, LLC ("SSG") acted as the exclusive investment banker to Advanced Communications, Inc. ("ACI" or the "Company") in the sale of substantially all of its assets to an affiliate of Resilience Capital Partners, LLC ("Resilience"). The sale closed in October, 2012.
Based in Canton, MI, ACI is a leading, solution-oriented, full service telecommunications provider of outsourced services to businesses, individuals and governments throughout the Midwest and in select areas in the Northeast and Southeast. The Company's comprehensive services include design and engineering, construction planning, construction maintenance and premise wiring. The Company specializes in two primary business lines: fulfillment services and outside plant services ("OSP"). ACI differentiates itself from its competitors by providing its customers with a single-source solution for both fulfillment and OSP services.
ACI experienced rapid levels of revenue growth; however, ACI's profitability suffered due to increased costs of managing operations outside its geographic footprint. ACI's senior management team determined that the flexibility of resource sharing and ease of management of a geographically contiguous footprint was advantageous to profitability. As a result, the Company exited a number of markets due to underperformance in these markets, resulting in the elimination of approximately 300 routes.
SSG marketed ACI to a wide variety of strategic and financial parties to find a partner to provide capital necessary to complete the Company's operational restructuring and strategically expand into new markets. With the realization of these initiatives, ACI is poised to increase profitability and further expand its brand. SSG's ability to solicit multiple competitive offers provided ACI and its lenders good market feedback to properly assess alternatives. Ultimately, ACI was sold to Resilience Capital Partners as its first acquisition in the infrastructure services industry and its fifth platform investment in The Resilience Fund III, L.P.
Headquartered in Cleveland, OH, Resilience Capital Partners is a leading private equity firm with a team of in-house operating experts that bring large company resources to the lower middle market. Founded in 2001, Resilience's value-oriented investment strategy focuses on acquiring companies experiencing a variety of special situations within a broad range of industries. Since its inception, Resilience has invested in 22 companies under 16 platforms, together representing over $2 billion in revenue and over 5,000 employees.
Other professionals who worked on the transaction include:
David M. Baker, Lynn Huras, Patricia Missal and Michael Baker of Aurora Management Partners, restructuring advisor to Advanced Communications, Inc.;
William D. Gilbride, Jr., George M. Malis and Mary P. Nelson of Abbott Nicholson, P.C. , counsel to Advanced Communications, Inc.;
Shawn M. Riley, David D. Watson and Lisa S. Lauer of McDonald Hopkins LLC, counsel to Advanced Communications, Inc.;
Lawrence F. Flick, II, Michael C. Graziano, Regina Stango Kelbon and Heather Sonnenberg of Blank Rome LLP, counsel to PNC; and
Walter S. Holzer and Rachel Masory of Kirkland & Ellis, LLP, counsel to Reslience Capital Partners.
About SSG Capital Advisors, LLC
SSG Capital Advisors is a leading independent investment bank that assists middle-market companies in completing special situation transactions. SSG provides its clients with comprehensive advisory services in the areas of mergers and acquisitions, private placements, financial advisory, financial restructurings and valuations. We have a proven track record of over 200 transactions in North America and Europe and are one of the national leaders in the industry.