SSG Advises A'GACI, LLC in Chapter 11 Reorganization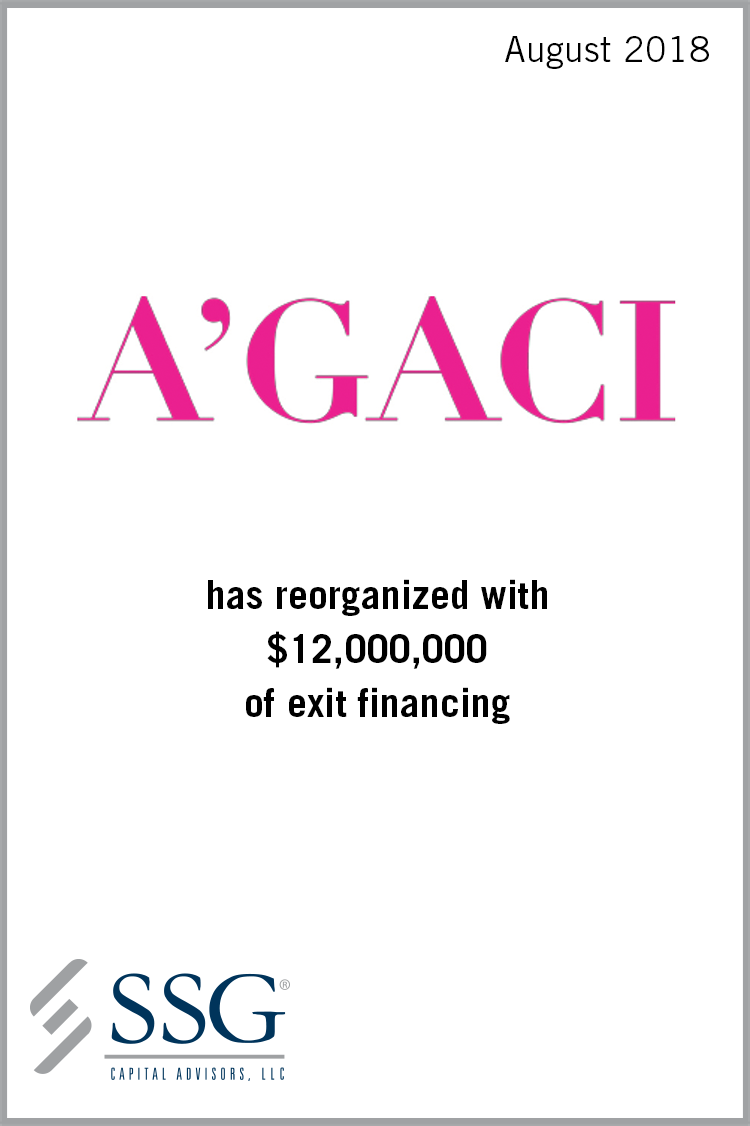 SSG Capital Advisors, LLC ("SSG") acted as the investment banker to A'GACI, LLC ("A'GACI" or the "Company") in the placement of exit financing and restructuring pursuant to a Chapter 11 Plan of Reorganization (the "Plan") in the U.S. Bankruptcy Court for the Western District of Texas. The Plan was confirmed and became effective in August 2018.
Founded in 1971 and headquartered in San Antonio, Texas, A'GACI is a multi-channel fast fashion retailer and lifestyle brand for young women. The Company maintains an active online presence and sells on-trend quality apparel, shoes and accessories at value prices through its website and 55 store locations across 8 U.S. states and territories.
After many years of successful operations, A'GACI suffered poor financial performance as it set aggressive growth targets by opening 21 new store locations across Arizona, California, Florida, Nevada and Puerto Rico from 2015 to 2017. This significant expansion combined with the flawed implementation of a new ERP system strained the Company's resources and delayed its response to evolving consumer shopping preferences and declining mall traffic. Shortly after the ERP implementation, a number of the Company's most profitable stores in Texas, Florida and Puerto Rico were severely impacted by Hurricanes Harvey, Irma and Maria resulting in a temporary closure of 24 locations. These circumstances drove management's strategic initiative to optimize the store portfolio, reduce fixed costs and identify a new capital partner to support the Company's return to profitability. A'GACI filed for protection under Chapter 11 of the U.S. Bankruptcy Code in January 2018.
SSG was retained in January 2018 to advise the Company on strategic alternatives including a possible sale or restructuring of the existing business. A comprehensive marketing process did not produce acceptable bids and SSG sought new financing to facilitate the Company's plan of reorganization and exit from bankruptcy. SSG's ability to solicit interest from several lenders in an efficient and timely process and its experience with refinancing enabled the Company to maximize value, preserve jobs, maintain the loyalty of vendors and customers and exit bankruptcy in seven months. Unlike most retail bankruptcies, A'GACI was able to avoid a liquidation or sale of its assets and achieve a true Chapter 11 reorganization with new exit financing.
Other professionals who worked on the transaction include:
Ian T. Peck, David L. Staab, Paul H. Amiel and Laura Shapiro of Haynes and Boone, LLP, counsel to A'GACI, LLC;
Stephen L. Coulombe, Gabe Koch, Michael Bohne and Caroline Barns, of Berkeley Research Group, LLC, financial advisor to A'GACI, LLC;
Michael Jerbich and Chris Draper of A&G Realty Partners, LLC, real estate advisor to A'GACI, LLC;
W. Steven Bryant of Locke Lord LLP, counsel to the Senior Lender;
Steve A. Peirce of Norton Rose Fulbright LLP (US), counsel to the Equipment Lender;
Richard S. Lauter and Emily S. Chou of Lewis Brisbois Bisgaard & Smith LLP, counsel to the Official Committee of Unsecured Creditors;
John P. Madden, Jack Allen and Ryan Feulner of Emerald Capital Advisors Corp., financial advisor to the Official Committee of Unsecured Creditors;
John F. Ventola and Melissa D. Waite of Choate Hall & Stewart LLP, counsel to the Exit Lender; and
Eric B. Terry of Eric Terry Law, PLLC, counsel to the Senior Creditor.