SSG Advises American Global Logistics, LLC in the Sale of Substantially all of its Assets to Terra Worldwide Logistics, LLC.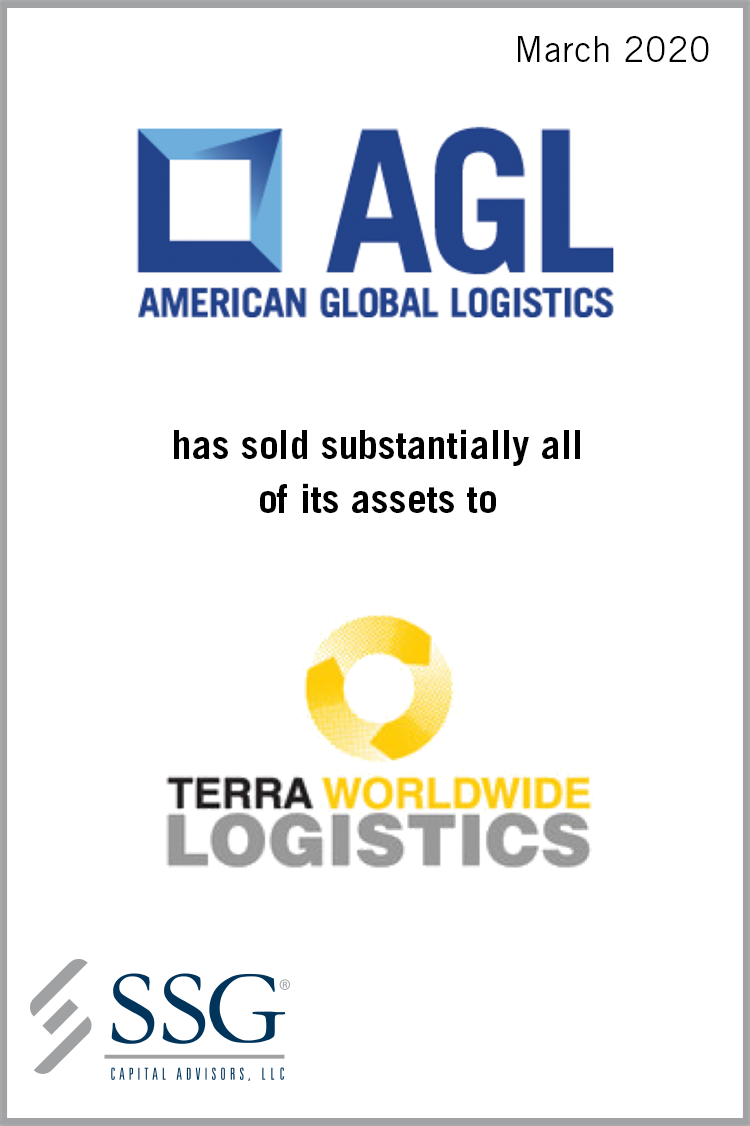 SSG Capital Advisors, LLC ("SSG") acted as the investment banker to American Global Logistics, LLC ("AGL" or the "Company") in the sale of substantially all of its assets to Terra Worldwide Logistics, LLC. The transaction closed in March 2020.
Headquartered in Atlanta, Georgia, American Global Logistics is a 3PL freight forwarder and 4PL technology solutions provider that empowers businesses to solve their biggest supply chain challenges. Their proprietary cloud-based technology offers unprecedented visibility and control throughout the supply chain, while their end-to-end logistics solutions provide a greater depth of service to global enterprises.
Starting in late 2016 into early 2017, a mismatch in supply capacity and demand, along with consolidation in the container ship market, resulted in major global freight rate fluctuations. Additionally, in 2018 the U.S. government implemented a series of tariffs on imported goods from China, further exacerbating the depressed freight rate environment and negatively impacting the shipping industry's volumes and pricing. During this time, AGL experienced revenue and profitability pressures, which severely constrained liquidity.
SSG was retained by AGL to conduct a marketing process to solicit offers from strategic and financial buyers which would enable the Company to rebalance its capital structure and inject much-needed liquidity. Terra Worldwide Logistics' offer provided the best outcome for all stakeholders. SSG's industry knowledge and experience running efficient sale processes enabled the Company to continue as a going concern.
Terra Worldwide Logistics was established in 2019 by a team of industry veterans to deliver original, innovative and customized logistics solutions that contribute to their customers' bottom line. Terra Worldwide Logistics provides international and domestic freight forwarding and logistics services, along with value-added services such as customs brokerage, warehousing and distribution to customers across a diverse group of blue-chip consumer and industrial companies.
Other professionals who worked on the transaction include:
• Jeff Armstrong and Eileen Frino of CR3 Partners LLC, Chief Restructuring Officer to American Global Logistics, LLC and;
• Michael J. Cochran, Perry D. Smith, Jr., Sarah Schrag, and Jessica Monastra of Dentons, counsel to American Global Logistics, LLC.