SSG Advises AmeriSource Industrial Supply Co. in the Sale of Substantially all of its Assets to an Affiliate of Fairmont Supply Company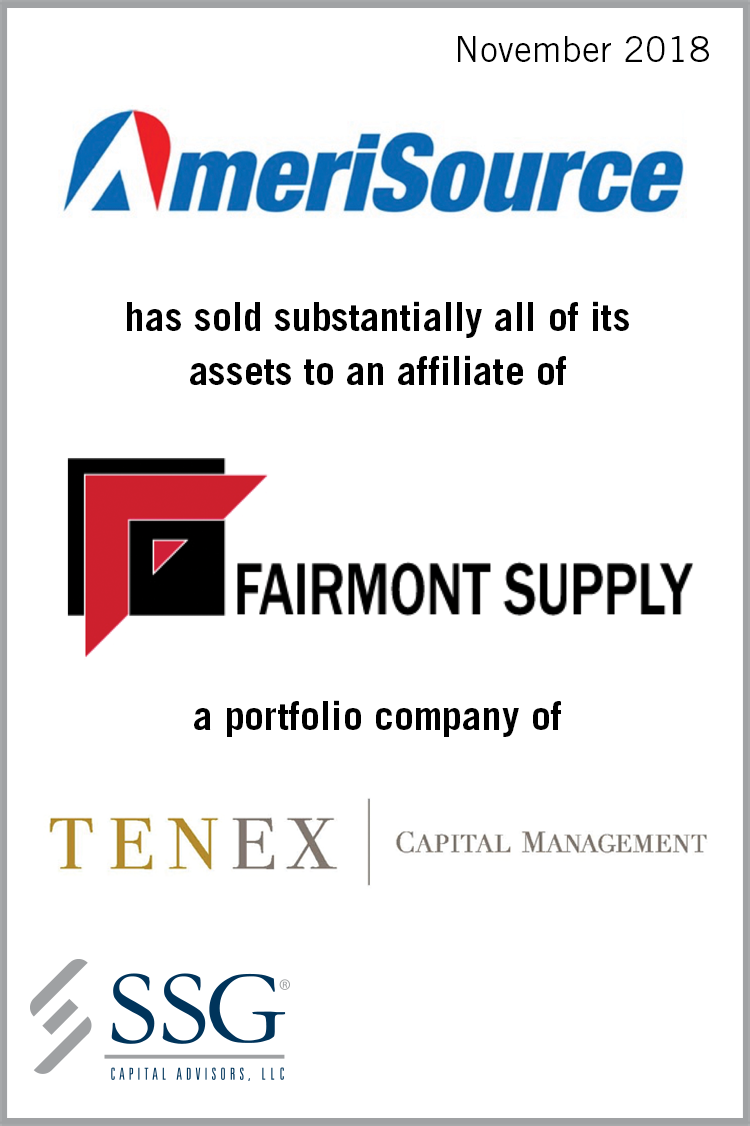 SSG Capital Advisors, LLC ("SSG") acted as the investment banker to AmeriSource Industrial Supply Co. ("AmeriSource" or the "Company") in the sale of substantially all of its assets to an affiliate of Fairmont Supply Company ("Fairmont"), a portfolio company of Tenex Capital Management ("Tenex"). The transaction closed in November 2018.
Headquartered in Detroit, Michigan and operating since 1946, AmeriSource is an industry-leading distributor of maintenance, repair and operations ("MRO") supplies with a strategic geographic footprint across the midwestern and southern United States. The Company's supplies are consumed primarily by middle-market manufacturing and general industrial customers. AmeriSource offers a variety of MRO products for maintenance, safety, production, packaging, janitorial, facility, office and breakroom supplies. In addition to its extensive product offering, the Company provides its customers with varying, customizable levels of value-added supply management services within customers' facilities.
AmeriSource made a series of acquisitions beginning in 2015 in order to broaden geographic reach, enhance product offerings and diversify its customer base. During this period, the Company made significant investment into its inventory management infrastructure to position itself for long-term growth. To execute the next phase of its strategic plan, AmeriSource decided to pursue strategic alternatives including a sale of the business.
SSG was retained by AmeriSource to conduct a comprehensive marketing process and solicit offers for the Company. The process attracted significant interest from multiple parties which engaged in a thorough review of AmeriSource and submitted offers for the business. Fairmont, a portfolio company of Tenex, submitted the most compelling offer which led to an optimal outcome for the Company and its stakeholders.
Fairmont distributes industrial MRO supplies throughout the United States.
Tenex is a private equity firm that invests up to $100 million of equity in middle market businesses and facilitates long-term value creation through operational change.
Other professionals who worked on the transaction include:
John P. Hensien, Steven R. Pacynski and Callie M. Root of Clark Hill PLC, counsel to AmeriSource Industrial Supply Co.;
Joshua K. Norton, Eric Buske, and Tyler S. Seals of Koley Jessen P.C., L.L.O., counsel to Fairmont Supply Company; and
Brendan J. Cahill of Dykema Gossett PLLC, counsel to AmeriSource Industrial Supply Co. shareholders.