SSG Advises Argos Therapeutics, Inc. in the Sale of Substantially all of its Assets to an Affiliate of SCM Lifescience Co., Ltd. and Genexine, Inc.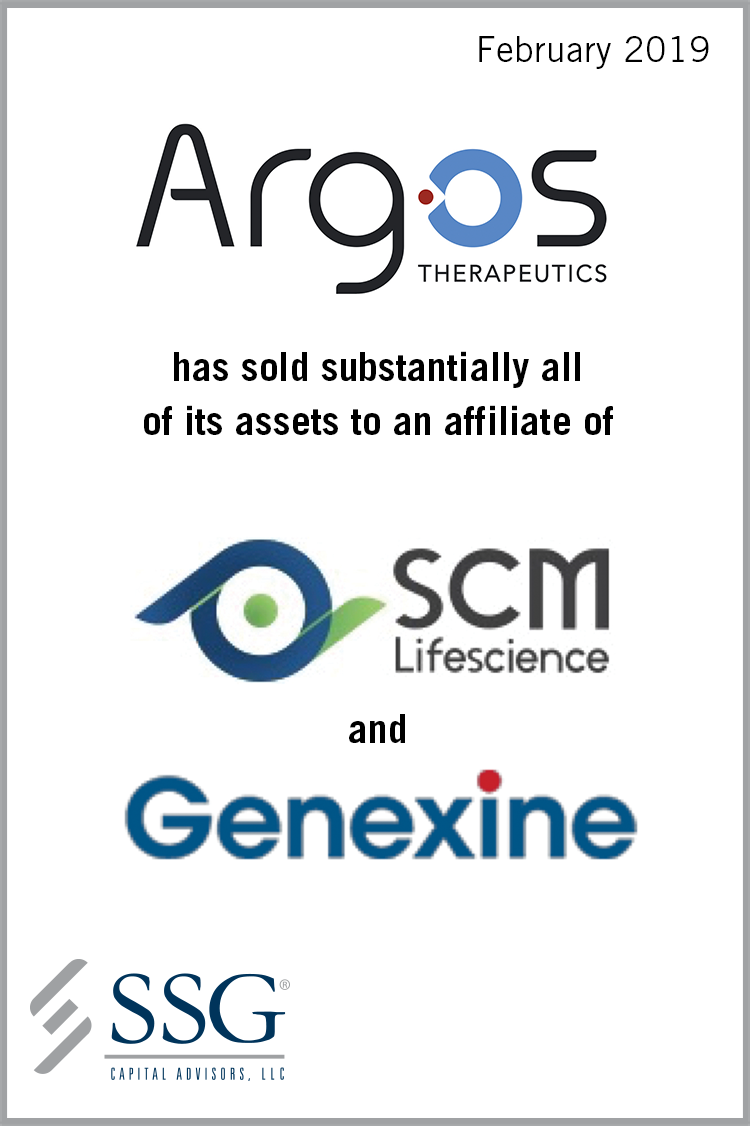 SSG Capital Advisors, LLC ("SSG") acted as the investment banker to Argos Therapeutics, Inc. ("Argos" or the "Company") in the sale of substantially all of its assets to an affiliate of SCM Lifescience Co., Ltd. ("SCM Lifescience") and Genexine, Inc. ("Genexine"). The sale was effectuated through a Chapter 11 Section 363 process in the U.S. Bankruptcy Court for the District of Delaware. The transaction closed in February 2019.
Founded in Durham, North Carolina in 1997, Argos is a publicly traded (OTCPK: ARGS.Q) immunotherapy company focused on the development of individualized immunotherapies for the treatment of cancer and infectious diseases. Argos operates a state-of-the-art R&D and manufacturing facility and has an extensive portfolio of patents and patent applications. The Company developed the Arcelis platform, a precision immunotherapy technology platform designed to overcome immunosuppression to treat a wide range of cancers and other diseases.
After two decades of refining its technology and processes, Argos faced liquidity challenges when they terminated a Phase III clinical trial in kidney cancer and moved from the NASDAQ exchange to the OTCQB Venture Market. In order to preserve the value of its assets, Argos filed for Chapter 11 bankruptcy in the District of Delaware in November 2018.
SSG was retained by Argos to conduct a comprehensive marketing process and solicit offers for the Company. The process attracted significant interest that resulted in three qualified bids, including a stalking horse bidder for the Company's assets. After an active auction with numerous rounds of bidding, the joint bid from SCM Lifescience and Genexine proved to be the most compelling offer, leading to an optimal outcome for the Company and its stakeholders.
Based in Incheon, South Korea, SCM Lifescience is a biotechnology company that operates in stem cell therapy, stem cell storage, CMO, contract research and consulting.
Based in Seongnam, South Korea, Genexine (KOSDAQ:A095700) is a clinical stage biotechnology company that focuses on the development and commercialization of immunotherapeutics and long- acting biologics.
Other professionals who worked on the transaction include:
• George W. Shuster, Jr., Lauren R. Lifland, Robert D. Burke and Stuart M. Falber of Wilmer Cutler Pickering Hale and Dorr LLP, counsel to Argos Therapeutics, Inc.;
• Adam G. Landis, Matthew B. McGuire and Matthew R. Pierce of Landis Rath & Cobb LLP, bankruptcy counsel to Argos Therapeutics, Inc.;
• Matthew Foster and Dax Murray of Sonoran Capital Advisors, Chief Restructuring Officer to Argos Therapeutics, Inc.; and
• Stuart Komrower and Katherine M. Devanney of Cole Schotz P.C., counsel to SCM Lifescience Co., Ltd. /Genexine, Inc.