SSG Advises Avadim Health in the Sale of Substantially all of its Assets to an Affiliate of Hayfin Capital Management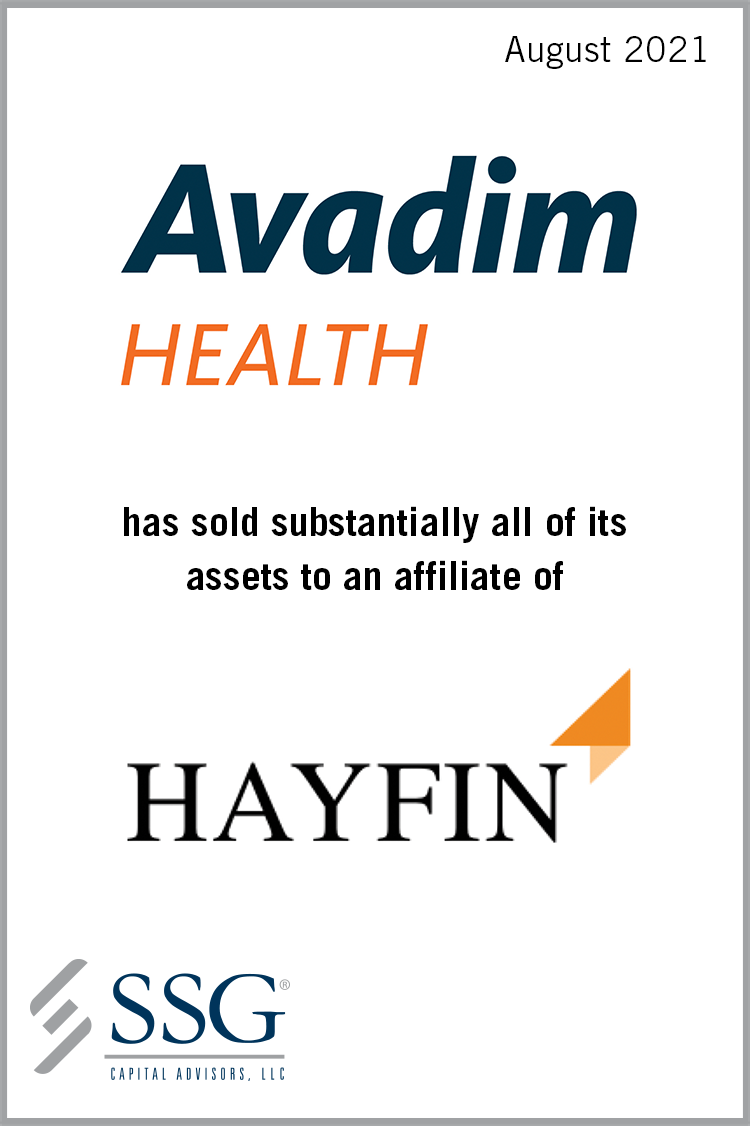 SSG Advisors, LLC ("SSG") acted as the investment banker to Avadim Health, Inc. ("Avadim" or the "Company") in the sale of substantially all of its assets to an affiliate of Hayfin Capital Management. The sale was effectuated through a Chapter 11 Section 363 process in the U.S. Bankruptcy Court for the District of Delaware. The transaction closed in August 2021.
Avadim is a leading healthcare and wellness company that develops, manufactures, and markets topical products for immune, muscular and skin health to institutional and consumer markets. Based in Asheville, NC, Avadim is vertically integrated and has commercialized several products through its two primary brand families: Theraworx Protect and Theraworx Relief. Avadim's products are used by over 1,000 leading hospitals and long-term care facilities and can be found in over 50,000 retail locations.
As an emerging consumer products company, Avadim experienced liquidity constraints preventing it from effectively bringing new products to market and executing its growth strategy. Avadim filed for Chapter 11 in May 2021 to recapitalize its balance sheet and provide additional liquidity and resources to drive product development, enhance retail awareness, and capture additional share in the robust self-care market.
SSG was retained in May 2021 with a short timeline to conduct a comprehensive sale process. Hayfin Capital Management successfully negotiated a Stalking Horse Agreement to preserve the business as a going concern. A comprehensive sale process attracted interest from multiple strategic and financial acquirers, but ultimately the Stalking Horse's bid proved to be the highest and best offer for the Company's assets. SSG's special situations expertise, significant experience in the healthcare and consumer products industries, and proven ability to close transactions quickly enabled Avadim to complete an expedited transaction that maximized value for all stakeholders.
Hayfin Capital Management is a European-based private credit alternative asset manager. Hayfin manages four complementary and cohesive debt investment strategies focused on delivering strong risk-adjusted returns: direct lending, special opportunities, tactical credit, and high yield and syndicated loans.
Other professionals who worked on the transaction include:
Keith Daniels, Chief Restructuring Officer, Mark Claster, Jonathan Killion, Scott Pasquith, and Aidan Black of Carl Marks Advisors, financial advisor to Avadim Health, Inc.;
Larry G. Halperin, Joon P. Hong, and Eric R. Manor of Chapman and Cutler LLP, bankruptcy counsel to Avadim Health, Inc.;
Laura Davis Jones, David M. Bertenthal, and Timothy P. Cairns of Pachulski Stang Ziehl & Jones, bankruptcy counsel to Avadim Health, Inc.;
David N. Griffiths, Gavin Westerman, Peter Feist, Bryan R. Podzius, Rachael L. Foust, Joseph Maurantonio, and Yugank Sunny Sikka of Weil, Gotshal & Manges LLP and Zachary I. Shapiro, Paul N. Heath, and David T. Queroli of Richards, Layton & Finger, PA, counsel to Hayfin Capital Management.;
Eric S. Chafetz, Jeffrey Cohen, and Robert M. Hirsh of Lowenstein Sandler LLP and Michael A. Sweet, Gordon E. Gouveia, Robert W. Glantz, and Jeffrey L. Widman of Fox Rothschild LLP, counsel to the Unsecured Creditors Committee; and
Sanjuro Kietlinski, Harry Foard, David Dunn, and Elise Shen of Province, LLC, financial advisor to the Unsecured Creditors Committee.