SSG Advises Benchmark Brands, Inc. in the Sale of Substantially All of its Assets to The Walking Company, Inc.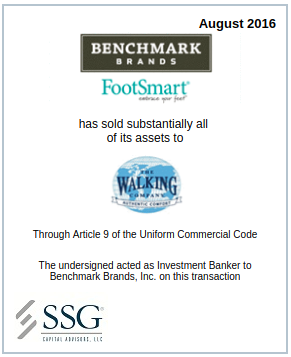 SSG Advisors, LLC ("SSG") acted as the investment banker to Benchmark Brands, Inc. ("Benchmark" or the "Company") in the sale of substantially all of its assets to The Walking Company, Inc. ("TWC"). The sale was effectuated through Article 9 of the Uniform Commercial Code and closed in August 2016.
Benchmark is an integrated direct-to-consumer retailer and product development company dedicated to serving the lifestyle and healthcare needs of baby boomers and seniors. The Company offers comfort, wellness and therapeutic footwear and lower body health products to consumers. Benchmark retails a broad array of proprietary products that are designed in-house or in conjunction with its vendor partners. Products are sold through multiple channels, including FootSmart®, the Company's ecommerce site and mail-order catalog operation, and Amazon.com.
Benchmark experienced significant, consistent revenue growth since its founding through 2012. However, industry headwinds, particularly the increasing dominance of Amazon in the direct-to-consumer marketplace, suppressed Benchmark's profitability and liquidity. SSG was retained by the Company as its exclusive investment banker to pursue sale alternatives and conducted a comprehensive marketing process to a broad universe of strategic and financial buyers. Multiple parties engaged in a thorough review of the business and submitted offers for Benchmark with TWC ultimately acquiring the Company.
Other professionals who worked on the transaction include:
Keith F. Cooper, Jennifer Byrne and Daly Brower of FTI Consulting, Chief Restructuring Officer and financial advisor to Benchmark Brands, Inc.;
Paul K. Ferdinands and W. Austin Jowers of King & Spalding LLP, counsel to Benchmark Brands, Inc.;
David L. Eades, Luis M. Lluberas and John E. Slaughter III of Moore & Van Allen PLLC, counsel to the senior lender; and
Frank Childress Jr. of Baker, Donelson, Bearman, Caldwell & Berkowitz P.C., counsel to The Walking Company, Inc.