SSG Advises BillNat Corporation in the Sale of Substantially All of its Assets to an Affiliate of CVS Health Corporation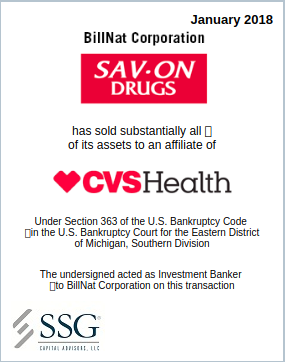 SSG Capital Advisors, LLC ("SSG") acted as the investment banker to BillNat Corporation ("BillNat" or the "Company") in the sale of substantially all of its assets to an affiliate of CVS Health Corporation ("CVS"). The sale was effectuated through a Chapter 11 Section 363 process in the U.S. Bankruptcy Court for the Eastern District of Michigan, Southern Division. The transaction closed in January 2018.
BillNat, a wholly-owned subsidiary of Frank W. Kerr Company ("Kerr"), is a leading retail pharmacy chain in Southeastern Michigan that operates 21 locations under the name "Sav-On Drugs." BillNat and its local community-oriented pharmacists provide customers with quality products and services in a one-stop layout at economical prices, including prescription drugs, over-the-counter medication, health and beauty products, and general merchandise.
In early 2016, Kerr experienced financial difficulties that resulted in its filing for bankruptcy protection. In order to maximize recovery for Kerr stakeholders, SSG was retained in June 2016 to explore strategic alternatives for BillNat.
SSG conducted a comprehensive marketing process, which resulted in a wide range of interest from potential strategic parties to achieve an optimal outcome for the Company and its stakeholders. The process resulted in ten offers for the assets in whole or in parts. BillNat ultimately reached an agreement with CVS for substantially all of the Company's assets. In October 2017, BillNat filed for Chapter 11 protection. While significant post-petition interest was expressed, CVS's stalking horse bid was ultimately deemed to be the highest and best offer. SSG's experience in identifying buyers, and running complex, special situation sale processes enabled the Company's stakeholders to maximize value while preserving a significant number of jobs.
CVS is a pharmacy innovation company helping people on their path to better health. Through its retail locations, walk-in medical clinics, pharmacy benefits manager, specialty pharmacy services, and Medicare Part D prescription drug plan, CVS enables people, businesses and communities to manage health in more affordable and effective ways. CVS's uniquely integrated model increases access to quality care, delivers better health outcomes and lowers overall health care costs.
Other professionals who worked on the transaction include:
Jeffrey K. Tischler, Matthew J. Davidson and Michael C. Walsh of Conway MacKenzie, Inc., Chief Restructuring Officer and financial advisor to BillNat Corporation;
Stephen M. Gross and Jayson B. Ruff of McDonald Hopkins LLC, counsel to BillNat Corporation;
Steven G. Howell, Eric S. Bergeron and Dawn R. Copley of Dickinson Wright PLLC, counsel to the lenders of BillNat Corporation;
Robert J. Diehl, Jr. and Jaimee L. Witten of Bodman PLC, counsel to the lenders of BillNat Corporation;
Jeff Johnston and Brian Stein of AlixPartners, LLP, financial advisor to the lenders of BillNat Corporation; and
Mark Minuti and Teresa K.D. Currier of Saul Ewing Arnstein & Lehr LLP, counsel to CVS Health Corporation.