SSG Advises Blitz in the Sale of its Assets to Scepter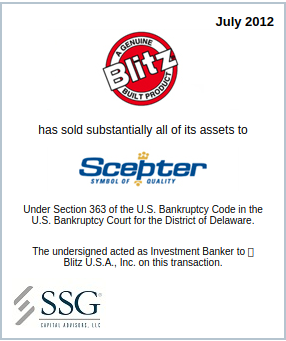 We are pleased to inform you that SSG Capital Advisors, LLC ("SSG") acted as the exclusive investment banker to Blitz U.S.A., Inc. ("Blitz" or the "Company") in the sale of substantially all of its assets to Scepter Holdings Inc. ("Scepter"). The sale was effectuated through a Chapter 11 Section 363 process and was approved by the Bankruptcy Court and closed in September, 2012.
Blitz was the industry leader in portable fuel containment, with product designs made specifically for containment of gas, kerosene and diesel. From its inception as the supplier of the traditional, olive-drab jerry can to the U.S. military throughout World War II, Blitz and its predecessor companies evolved into the national leading producer of fuel containment products. Blitz's main customers included auto specialty, mass merchant and hardware/home retailers across the U.S.
Blitz grew to have more than 150 million units in circulation, which accounted for over 70% of the U.S. market share in portable fuel containment and storage. Historically, Blitz operated with minimal interruption from litigation. Over the past few years, however, Blitz experienced a significant increase in product liability litigation with approximately four to seven new cases filed each year. Initially, the Company successfully managed its litigation exposure and associated defense costs. Following a state jury verdict and several settlements with plaintiffs by Blitz's insurance carriers, the Company experienced a dramatic increase in lawsuits. With an extremely high self-insured retention per occurrence, Blitz was forced to divert all net operating cash flows after debt service to fund insurance and defense costs. As a result, Blitz and five of its affiliates filed under Chapter 11 in November, 2011 in the U.S. Bankruptcy Court for the District of Delaware. Furthermore, Blitz's commercial liability insurance coverage expired at the end of July, 2012. Due to the uncertainty surrounding litigation against Blitz, its insurers were unwilling to extend coverage beyond expiration without significant letter of credit backing. As such, the Company was forced to shut down operations at the end of July 2012.
SSG was retained as Blitz's investment banker to explore a sale of substantially all of the Company's assets. SSG conducted a comprehensive marketing process which resulted in a wide range of potential buyers, including multiple strategic and financial parties interested in operating Blitz as a going concern business. Scepter, a Canadian strategic buyer, was chosen as the stalking horse bidder and ultimately presented the highest and best offer for substantially all of the assets of Blitz. SSG's experience in running an efficient and timely Chapter 11 sales process and its knowledge of the market enabled key stakeholders to maximize the value of the assets while preserving the option to re-start the Company's operations and re-hire the workforce.
Scepter Holdings Inc. is the holding company for Scepter Corporation, which designs and manufactures molded plastic products and is headquartered in Scarborough, Canada. Its diverse portfolio includes six separate product divisions: Marine, Consumer, Industrial, PoleShark, Flo n' go and Military.
Other professionals who worked on the transaction include:
Daniel DeFranceschi, Paul Heath, Mark Kurtz, Cynthia Kaiser and Amanda Steele of Richards, Layton & Finger, P.A., counsel to Blitz;
Kevin Nystrom and Fernando Maddock of Zolfo Cooper, LLC, financial advisors to Blitz;
Andrew Colombo of Hovey Williams LLP, counsel to Blitz
David Jones of Logan & Lowry, LLP, counsel to Blitz;
David Fournier, Solomon Hunter and John Shasanmi of Pepper Hamilton LLP, counsel to Scepter;
Anthony Milazzo of Borden Ladner Gervais LLP, counsel to Scepter;
Mary Seymour, Samuel Santo, Sharon Levine and Timothy Wheeler of Lowenstein Sandler PC, counsel to the Unsecured Creditors Committee;
Frank Monaco and Kevin Mangan of Womble Carlyle Sandridge & Rice PLLC, counsel to the Unsecured Creditors Committee; and
Matthew Diaz and Michael Cordasco of FTI Consulting, Inc., financial advisors to the Unsecured Creditors Committee.
About SSG Capital Advisors, LLC
SSG Capital Advisors is a leading independent investment bank that assists middle-market companies through complex financial situations. SSG provides its clients with comprehensive advisory services in the areas of mergers and acquisitions, private placements, financial advisory, financial restructurings and valuations. We have a proven track record of over 200 transactions in North America and Europe and are one of the national leaders in the industry.
Securities are offered through SSG Capital Advisors, LLC (Member SIPC, Member FINRA). All other transactions are effectuated through SSG Advisors, LLC, both of which are wholly owned by SSG Holdings, LLC. SSG is a registered trademark for SSG Capital Advisors, LLC and SSG Advisors, LLC. SSG provides investment banking, restructuring advisory, merger, acquisition and divestiture services, private placement services and valuation opinions. Past performance is no guarantee of future results