SSG advises BNA Subsidiaries, LLC in its sale to the Bureau of National Affairs, Inc.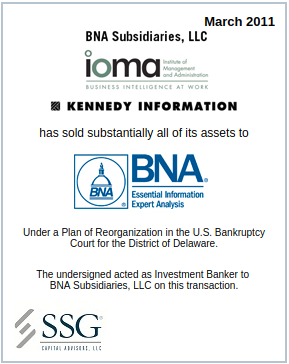 We are pleased to inform you that SSG Capital Advisors, LLC ("SSG") acted as the exclusive investment banker and financial advisor to BNA Subsidiaries, LLC ("BNA Subs" or the "Company") in the sale of substantially all of its assets to the Bureau of National Affairs, Inc. ("BNA Parent"). The sale was conducted through a Plan of Reorganization under the U.S. Bankruptcy Code in the U.S. Bankruptcy Court for the District of Delaware. The sale was confirmed on March 22, 2011 and the transaction closed on March 30, 2011.
BNA Subs is a leading provider of research, information and professional events in a wide range of fields, including management and IT consulting, medical laboratories and agriculture. Collectively, BNA Subs' products have been a significant source for critical news and analysis for decades, building leading brand reputations by giving its customers important and relevant industry information. BNA Subs is comprised of six business units: Kennedy Consulting Research & Advisory, Washington G-2 Reports, Pike & Fischer's Green Markets group, Consulting Magazine, BNA Subs' Career Services group and Institute Lists and was formed through the 2009 merger of Kennedy Information and the Institute of Management and Administration.
The Company's financial performance was negatively affected by the global economic downturn, as a reduction in corporate spending for information newsletters and conferences decreased the demand for the Company's products and services. Despite a broad and detailed restructuring plan from BNA Subs' management, BNA Parent decided that it would no longer provide unsecured funding and/or equity infusions due to market weakness for BNA Subs' products and services. In September 2010, BNA Subs filed for voluntary bankruptcy protection under Chapter 11 of the U.S. Bankruptcy Code in the District of Delaware and filed a Plan of Reorganization ("Plan") sponsored by BNA Parent. SSG acted as investment banker and financial advisor to BNA Subs performing a valuation on the Company and ultimately re-marketing the equity in the proposed Plan to a number of strategic and financial parties. The Plan was confirmed by the Court on March 22, 2011.
Other professionals who worked on the transaction include:
Norman L. Pernick, Marion M. Quirk, Patrick J. Reilley and Karen M. Grivner of Cole, Schotz, Meisel, Forman & Leonard, P.A., counsel to BNA Subs; and
Gregg M. Galardi* and Kristhy M. Peguero of Skadden, Arps, Slate, Meagher & Flom LLP, counsel to BNA Parent.
As of May 16, 2011, a partner with DLA Piper
About SSG Capital Advisors, LLC SSG Capital Advisors, LLC ("SSG") is a nationally recognized boutique investment bank that assists middle market companies, as well as their stakeholders, complete special situation transactions. As a specialist in mergers and acquisitions, financial advisory, capital raises, financial restructurings and complex valuations, we offer the expertise our clients need in today's complex and fast-moving financial markets. As an independent firm with a clear focus, we offer the personal attention of our senior partners, entrepreneurial spirit, and agility in the marketplace that middle-market businesses expect. Since 2001, SSG has successfully completed over 170 special situation investment banking assignments on behalf of clients in North America and Europe.