SSG advises Brenner Aerostructures in its sale to The Atlas Group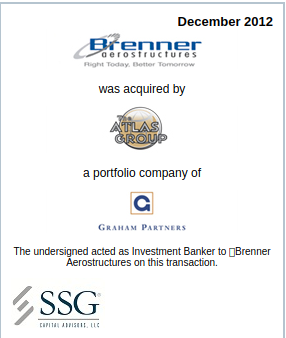 We are pleased to inform you that SSG Capital Advisors, LLC ("SSG") acted as the exclusive investment banker to Brenner Aerostructures, LLC ("Brenner" or the "Company") in its sale to an affiliate of The Atlas Group ("Atlas"), a portfolio company of Graham Partners ("Graham"). The transaction closed on December 31, 2012.
Based in suburban Philadelphia, PA, Brenner is a value-added manufacturer of aerospace components and sub assemblies primarily serving the commercial aerospace industry. The Company specializes in designing, assembling and manufacturing highly engineered parts and sub assemblies primarily for the commercial aircraft industry and other related markets. Through flexible manufacturing, Brenner's broad product spectrum of components spans the entire airplane from nose to tail.
Brenner is a successful, privately held business and retained SSG to facilitate the exploration of its strategic alternatives, including the sale of the Company. After facilitating a wide marketing process comprised of both strategic and financial investors, Brenner was acquired by Atlas, a group of value-added manufacturers of new and replacement OEM parts for corporate, regional, commercial and defense aircrafts. Brenner's current and future capabilities will allow both Brenner and Atlas to help streamline key processes and become a stronger supplier to the combined customer base while adding additional management strength and depth to Brenner's operation. The transaction provides Brenner with strategic resources to support its growth initiatives and allows Brenner's owner the opportunity to diversify his personal holdings while remaining a key part of its future.
Graham Partners is a private investment firm focused on investing in companies with proprietary technologies, advanced manufacturing know-how, innovative product development capabilities and strong growth potential. Graham Partners adds value to its portfolio by leveraging its extensive operating resources, financial expertise and industrial heritage.
Other professionals who worked on the transaction include:
Robert E. Salad, Michael L. Salad and Kerri L. Kopervos of Cooper, Levenson, April, Niedelman & Wagenheim, P.A., counsel to Brenner Aerostructures, LLC;
Jeff Legath, Brad Pollack, and Jonathan Stott, of Dechert LLP, counsel to The Atlas Group and Graham Partners; • Claudine Cohen and Lance Beder of Grant Thornton, financial consultant to Brenner Aerostructures, LLC;
David Craft and Scott Reid of KPMG, financial consultant to The Atlas Group and Graham Partners.
About SSG Capital Advisors, LLC
SSG Capital Advisors is a leading independent investment bank that assists middle-market companies with comprehensive advisory services in the areas of mergers and acquisitions, private placements, financial advisory, financial restructurings and valuations. We have a proven track record of closing over 200 transactions in North America and Europe and are one of the national leaders in the industry.