SSG advises BroadSign International, Inc. in the sale of its assets to affiliates of JedFam Group, LLC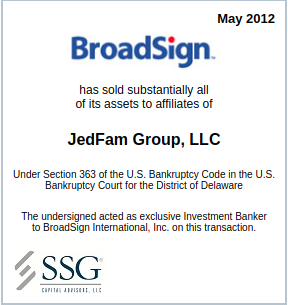 We are pleased to inform you that SSG Capital Advisors, LLC ("SSG") acted as the exclusive investment banker to BroadSign International, Inc. and BroadSign Canada, (collectively "BroadSign" or the "Company") in the sale of its assets to affiliates of JedFam Group, LLC ("JedFam"). The sale was effectuated through a Chapter 11 Section 363 process and closed on May 31, 2012.
Based in Montreal, Canada, BroadSign is a leading provider of enterprise-scale software-as-a-service that allows companies to manage and set up digital signage networks as well as manage media files across multiple locations. Digital signage is used for delivering visual messages at point-of-purchase or at other public venues such as airports, movie theaters and doctor's offices. BroadSign's customer base consists of approximately 120 customers in 25 countries operating a wide variety of operating systems and hardware products. BroadSign has the largest connected digital signage network in the Digital Out Of Home industry, with more than 27,000 subscriptions and more than 1.5 billion ad plays each month. By working closely with its customers to incorporate changing demands, the Company has created a product that combines the standards of traditional media placement with the flexibility and targeted nature of digital signage.
BroadSign's legacy software technology was acquired in 2006 from a company that had developed and enhanced the software but was unable to commercialize it. BroadSign raised a variety of senior debt, convertible notes and equity to provide funding for operations and bring the software to commercial use. Unfortunately, the complex capital structure constrained liquidity and inhibited the Company's ability to raise additional capital. Consequently, the Company determined that a sale was the only viable alternative. BroadSign filed for protection under Chapter 11 of the United States Bankruptcy Code in the District of Delaware on March 4, 2012.
SSG was retained as the Company's investment banker for the purpose of marketing the business and soliciting competing offers to the proposed stalking horse bid. JedFam's stalking horse offer was ultimately the highest and best price for substantially all of the assets of BroadSign. The sale was approved by the Bankruptcy Court on May 14, 2012. SSG's experience in condensed M&A processes and Section 363 sales enabled all key stakeholders to maximize the value of the Company and preserve Broadsign as a going concern.
Other professionals who worked on the transaction include:
Christopher P. Simon and Kevin S. Mann of Cross & Simon LLC, counsel to BroadSign International, Inc.;
Hobart G. Truesdell of Walker, Truesdell, Roth & Associates Inc., chief restructuring officer for BroadSign International, Inc.; and
Mark E. Felger of Cozen O'Connor PC, counsel to JedFam Group, LLC and its affiliates.
About SSG Capital Advisors, LLC
SSG Capital Advisors, LLC ("SSG") is a leading independent boutique investment bank that assists middle market companies, as well as their stakeholders, complete special situation transactions. As a specialist in mergers and acquisitions, financial advisory, capital raises, financial restructurings and complex valuations, we offer the expertise our clients need in today's complex and fast-moving financial markets. As a partner-owned firm with a clear focus, we offer the personal attention of our senior partners, entrepreneurial spirit and agility in the marketplace that middle-market businesses require. Since 2001, SSG has successfully completed over 190 special situation investment banking assignments on behalf of clients in North America and Europe.
SSG Capital Advisors, LLC (Member FINRA, SIPC) is a wholly owned broker dealer of SSG Holdings, LLC. SSG is a registered trademark for SSG Capital Advisors, LLC. SSG provides investment banking, restructuring advisory, merger, acquisition and divestiture services, private placement services and valuation opinions. Past performance is no guarantee of future results.