SSG advises Burner Systems International, Inc. in the sale of its stock to an affiliate of Aterian Investment Partners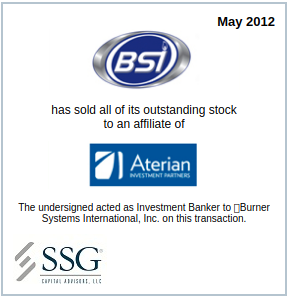 We are pleased to inform you that SSG Capital Advisors, LLC ("SSG") acted as the exclusive investment banker to Burner Systems International, Inc. ("BSI" or the "Company") in the sale of its stock to an affiliate of Aterian Investment Partners ("Aterian"). The transaction closed on May 23, 2012.
BSI is a leading global supplier for the $1.0 billion gas appliance industry with headquarters in Chattanooga, TN and additional manufacturing facilities in Mexico, France, England and Turkey. The Company's products are incorporated in a wide variety of natural gas and propane-fueled appliances used for cooking, heating and in recreational vehicles. BSI produces components, assemblies, and complete system solutions for cooking and heating equipment. The Company's facilities each have specific manufacturing specialties and are located in proximity to BSI's major clients to better respond to client demand and better manage freight costs.
The Company derives its revenue from the residential remodeling, replacement and new construction markets. Given the downturn in the economy and the protracted bottoming of the housing market, the Company's sales and profitability declined in recent years. BSI had sufficient liquidity to execute on its near and medium term goals; however, the Company looked to strengthen its capital base and solidify its operations for future growth.
SSG was retained as BSI's exclusive investment banker to explore strategic alternatives, including a potential sale of the Company. Leveraging its prior transactional experience in the appliance component sector as well as its relationships with special situation oriented private equity firms, SSG conducted a comprehensive marketing program which resulted in a competitive bidding process for BSI. Aterian submitted an offer that maximized the value of the business and provided the Company and its management team with the long term support to facilitate its future growth. In addition to conducting the marketing process, SSG was instrumental in facilitating resolution of cross-border due diligence issues and consensus among key stakeholder groups to allow the transaction to close on a timely basis.
Aterian Investment Partners is a private investment firm focused on investments in turnaround opportunities and unique situations in small to middle market companies. Aterian seeks to partner with businesses generating $25 million to $500 million in annual revenues, with strong, proven franchises in need of up to $50 million of capital. Aterian invests in companies across a broad range of industries, with competitive market positions and valued customer presence that are financially, strategically or operationally constrained. These investments are used to assist management in executing its operating plan and building a platform for growth while enhancing value for all stakeholders.
Other professionals who worked on the transaction include:
Jonathan F. Kent, Mark W. Degler, W. Scott Parrish, John David Spiller, Jr. and Merrill F. Nelson, II of Miller & Martin PLLC, U.S. counsel to Burner Systems International, Inc.;
Gonzalo E. Ruy-Diaz Benhumea and Ivan Guerrero Sanchez of Portilla, Ruy-Díaz & Aguilar, Mexican counsel to Burner Systems International, Inc.;
Pierre-Menno de Girard and Charles-Audouin Pascaud of Reinhart Marville Torre, French counsel to Burner Systems International, Inc.;
Matthew Overton and Russel Shear of Edwin Coe LLP, U.K. counsel to Burner Systems International, Inc.;
Selçuk ŞengϋlE. Paul Quinn, Gregory E. Spitzer, Lisa Rushton, Garrett Hayes, Dr. Ali Sahin, Pascal de Moidrey, Louis R. Hernandez, III, Ziemowit T. Smulkowski, Colby Gifford, and Kimberley S. Edsenga of Paul Hastings LLP, counsel to Aterian Investment Partners; and
er of Şengϋler & Şengϋler, Turkish counsel to Burner Systems International, Inc.;
Richard S. Petretti and Emmeline S. Liu of Morgan, Lewis & Bockius LLP, counsel to BSI's Bank Group.
About SSG Capital Advisors, LLC
SSG Capital Advisors, LLC ("SSG") is a leading independent boutique investment bank that assists middle market companies, as well as their stakeholders, complete special situation transactions. As a specialist in mergers and acquisitions, financial advisory, capital raises, financial restructurings and complex valuations, we offer the expertise our clients need in today's complex and fast-moving financial markets. As a partner-owned firm with a clear focus, we offer the personal attention of our senior partners, entrepreneurial spirit and agility in the marketplace that middle-market businesses require. Since 2001, SSG has successfully completed over 190 special situation investment banking assignments on behalf of clients in North America and Europe.
SSG Capital Advisors, LLC (Member FINRA, SIPC) is a wholly owned broker dealer of SSG Holdings, LLC. SSG is a registered trademark for SSG Capital Advisors, LLC. SSG provides investment banking, restructuring advisory, merger, acquisition and divestiture services, private placement services and valuation opinions. Past performance is no guarantee of future results.