SSG Advises CastleRock Security Holdings, Inc. in the Sale of its Security Alarm Portfolio to SAFE Security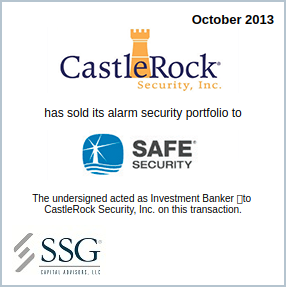 SSG Capital Advisors, LLC ("SSG") acted as the investment banker to CastleRock Security Holdings, Inc. and its subsidiary ("CastleRock" or the "Company") in the sale of its security alarm portfolio to Security Alarm Financing Enterprises, L.P. ("SAFE Security"). The sale closed in October 2013.
CastleRock owned, monitored and serviced over 16,000 residential and commercial alarm accounts in 46 states and provinces. The accounts were aggregated primarily with summer sales model contracts from independent security alarm dealers who sell and install security alarm systems to residential and light commercial customers located in the United States and Canada.
SSG was retained as CastleRock's investment banker to explore a sale of the Company's alarm portfolio. SSG conducted a comprehensive marketing process which resulted in a number of offers from industry-leading companies in the security alarm space. Working closely with MorrisAnderson, the Company's financial advisor, SSG was able to negotiate and close the transaction quickly for the benefit of CastleRock's stakeholders. Founded in 1988, SAFE Security consistently ranks among the top 30 largest security alarm companies in the United States, and is one of the few fully national alarm companies with operations in 50 states, Puerto Rico and Canada.
Other professionals who worked on the transaction include:
Daniel Dooley, Chief Restructuring Officer and Mark Iammartino of MorrisAnderson, financial advisor to the CastleRock Security Holdings, Inc.,
Bruce Fox of Neal, Gerber & Eisenberg LLP, counsel to CastleRock Security Holdings, Inc., and
Ray Peffer of Greenan, Peffer, Sallander & Lally LLP, counsel to SAFE Security.