SSG advises the Chapter 11 Trustee of Jackson & Perkins Acquisition, Inc., Geo. W. Park Seed, Inc. and Subsidiaries in the sale of substantially all of the assets to an affiliate of Blackstreet Capital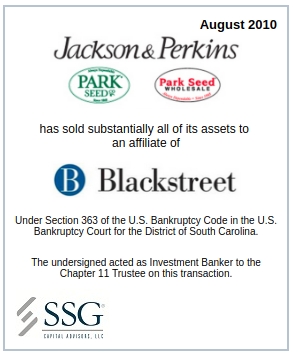 We are pleased to inform you that SSG Capital Advisors, LLC ("SSG") acted as the exclusive investment banker to L. Stan Neely as Chapter 11 Trustee of Jackson & Perkins Acquisition, Inc. ("Jackson & Perkins"), Geo. W. Park Seed Co, Inc. ("Park Seed") and their subsidiaries (collectively the "Company" or the "Debtor") in the sale of substantially all of the assets to an affiliate of Blackstreet Capital ("Blackstreet" or the "Buyer"). The sale was conducted through a Section 363 auction under the United States Bankruptcy Code in the U.S. Bankruptcy Court for the District of South Carolina. The sale was confirmed on August 23, 2010 and the transaction closed on August 25, 2010.
Headquartered in Greenwood, SC with rose breeding operations in Somis, CA, Jackson & Perkins and Park Seed are pioneers in direct marketing to consumers. With nearly 140 years of history, the Company has become known for offering ground-breaking and award-winning roses, seeds, plants and other related horticultural items. The Company's brands, including Wayside Gardens, have become synonymous with quality horticultural products. Today, Jackson & Perkins and Park Seed own and operate multiple online stores and distribute a combined 13 catalog titles, including the very successful Jackson & Perkins Holiday Catalog.
Blackstreet Capital is a Chevy Chase, MD based private equity firm with approximately $200 million under management. Blackstreet focuses on control buyouts of under-performing corporate orphans primarily located in the eastern half of the U.S. To date, Blackstreet has invested in 16 companies with combined sales in excess of $1.1 billion and over 8,000 employees.
The Chapter 11 Trustee hired SSG in May, 2010 to explore a sale of substantially all of the assets of Jackson & Perkins and Park Seed. SSG immediately began to market the businesses and contacted over 100 potential strategic and financial buyers. In June and July 2010, SSG initiated negotiations on a stalking horse bid with Blackstreet which was approved by the Bankruptcy Court on July 27, 2010. SSG worked diligently during July and August, 2010 to re-market the Company and obtain higher and better offers in order to assure the maximum value to the estate. As a result of SSG's marketing efforts, two additional qualified bidders attended an auction for substantially all of the Company's assets on August 23, 2010. The auction ultimately delivered a final price approximately 51% higher than the stalking horse bid, committed Blackstreet (the highest bidder) to retain the Company's employees and significantly increased recoveries to numerous estate constituents.

Other professionals who worked on the transaction include:
L. Stan Neely, Chapter 11 Trustee;
Barbara G. Barton, Christine E. Brimm, Adam J. Floyd of Barton Law Firm, P.A., counsel to the Debtor;
Alan M. Noskow of Patton Boggs, LLP, counsel to Blackstreet Capital;
J. William Porter and Katie Trotter of Parker, Poe, Adams and Bernstein LLP and Randy P. Orlik of Cox Castle & Nicholson LLP, counsels to the Secured Creditors; and
Steven K. Kortanek, Rory D. Whelehan and Todd D. Ross of Womble, Carlyle, Sandridge & Rice, PLLC, counsel to the Unsecured Creditors' Committee
About SSG Capital Advisors, LLC
SSG is a leading boutique investment bank dedicated to representing middle market clients in restructuring and special situations, both in and out of bankruptcy proceedings. SSG provides its clients with comprehensive advisory services in the areas of mergers and acquisitions, capital raises, financial restructuring and valuation. SSG's professionals have completed over 170 transactions since 2001 and are leaders in the industry.