SSG Advises the Chapter 11 Trustee in the Sale of the Assets of Snö Mountain LP to Montage Mountain Resorts, LP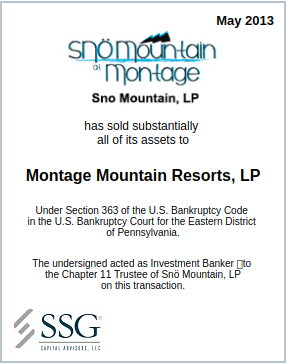 We are pleased to inform you that SSG Capital Advisors, LLC ("SSG") acted as the exclusive investment banker to the Chapter 11 Trustee of Snö Mountain LP ("Snö Mountain" or the "Resort") in the sale of substantially all of the Resort assets to Montage Mountain Resorts, LP ("Montage"). The sale was effectuated through a Section 363 process and was approved by the Bankruptcy Court and closed May, 2013.
Snö Mountain is a leading resort area in Lackawanna County, PA. The Resort, doing business as Snö Mountain at Montage, provides a picturesque setting with numerous amenities and activities designed to showcase its location five miles from the center of Scranton, PA. With a 1,000 foot vertical drop, 30 ski trails, 7 lifts, a terrain park, tubing facility and 2 half pipes, Snö Mountain's ski resort is among the largest ski areas in the Pennsylvania's Pocono region and has areas for all skill levels. The Resort also has a water park with multiple attractions for the summer season.
The Trustee engaged SSG in February 2013 to sell the Resort's assets. SSG marketed Snö Mountain and all of its assets to a wide range of ski resort operators, real estate developers and various financial parties. Ultimately, the bid of Montage was negotiated and accepted by the Trustee and approved by the Court as the highest and best bid for the Resort's assets. SSG's experience in the ski industry and in an expedited sales process helped maximize value for all stakeholders.
Other professionals who worked on the transaction include:
Gary F. Seitz, Chapter 11 Trustee and Jennifer M. Zelvin of Rawle & Henderson LLP;
Aris J. Karalis, Camille Spinale, Dustin G. Kreider and Robert W. Seitzer of Maschmeyer Karalis PC, counsel to the Chapter 11 Trustee;
Charles N. Persing and Kyle Rems of Bederson & Company LLP, financial advisor to the Chapter 11 Trustee;
Peter S. Clark, II, Derek Baker and Lauren S. Zabel of Reed Smith LLP, counsel to the lender; and
Robert Lapowsky, Anthony S. DiSandro and Elliott J. Stein of Stevens & Lee, P.C., counsel to Montage Mountain Resorts, LP.