SSG Advises the Chapter 11 Trustee in the Sale of Woodcrest Country Club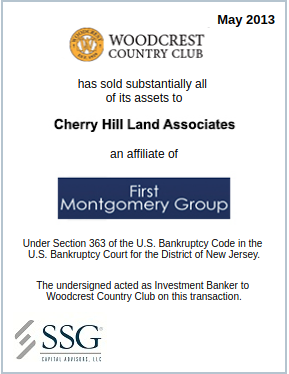 SSG Capital Advisors, LLC ("SSG") acted as the exclusive investment banker to the Chapter 11 Trustee of Woodcrest Country Club ("Woodcrest" or the "Club") in the sale of substantially all of the Club's assets to an affiliate of First Montgomery Group ("FMG"). The sale was effectuated through a Section 363 process, was approved by the Bankruptcy Court and closed in May, 2013.
Woodcrest is a private 18-hole golf course located in Cherry Hill, New Jersey. Situated on over 155 acres, the William S. Flynn designed golf course built in 1929 is regarded as one of the finest courses in the Delaware Valley. Throughout its storied history, Woodcrest played host to the Philadelphia Section PGA Championship, qualifying for the US Open and many other premier tournaments and golf outings.
On February 7, 2013, Bonnie Fatell of Blank Rome LLP was appointed as the Chapter 11 Trustee to supervise the disposition of the Club's assets for the benefit of the stakeholders. Ms. Fatell engaged SSG in February 2013 to sell the Club's assets. With the Club's highly coveted property acting as an attractive investment opportunity to a variety of buyers, SSG marketed Woodcrest and all of its assets to a wide range of golf course operators, real estate developers and various financial parties, ultimately receiving several offers. SSG delivered a stalking horse bidder for the club's assets as well as four additional qualified bids, which resulted in a 363 auction with robust bidding. Cherry Hill Land Associates LLC, an affiliate of the First Montgomery Group, produced the highest bid, acquiring the Club's property and all of its assets. The final purchase price totaled $10.1 million.
Other professionals who worked on the transaction include:
Bonnie G. Fatell of Blank Rome LLP, Chapter 11 Trustee;
Michael Schaedle, Daniel J. Ivler, Josef W. Mintz and Alan M. Root, all of Blank Rome LLP; counsel to the Chapter 11 Trustee;
Michael DuFrayne and Robert Agarwal, both from Executive Sounding Board Associates; financial advisor to the Chapter 11 Trustee;
Diane E. Vuocolo, Joseph P. (Jody) Davis, III, Rachel Kipnes, David M. DeVito and Michael L. Suleta, all of Greenberg Traurig, LLP; counsel to senior lender; and
Jerrold S. Kulback, John D. Cranmer and David A. Weinstein, all of Archer & Grenier P.C.; counsel to First Montgomery Group.