SSG Advises Cherry Bros., LLC in the Sale of Substantially All of its Assets to an Affiliate of Believe Group, LLC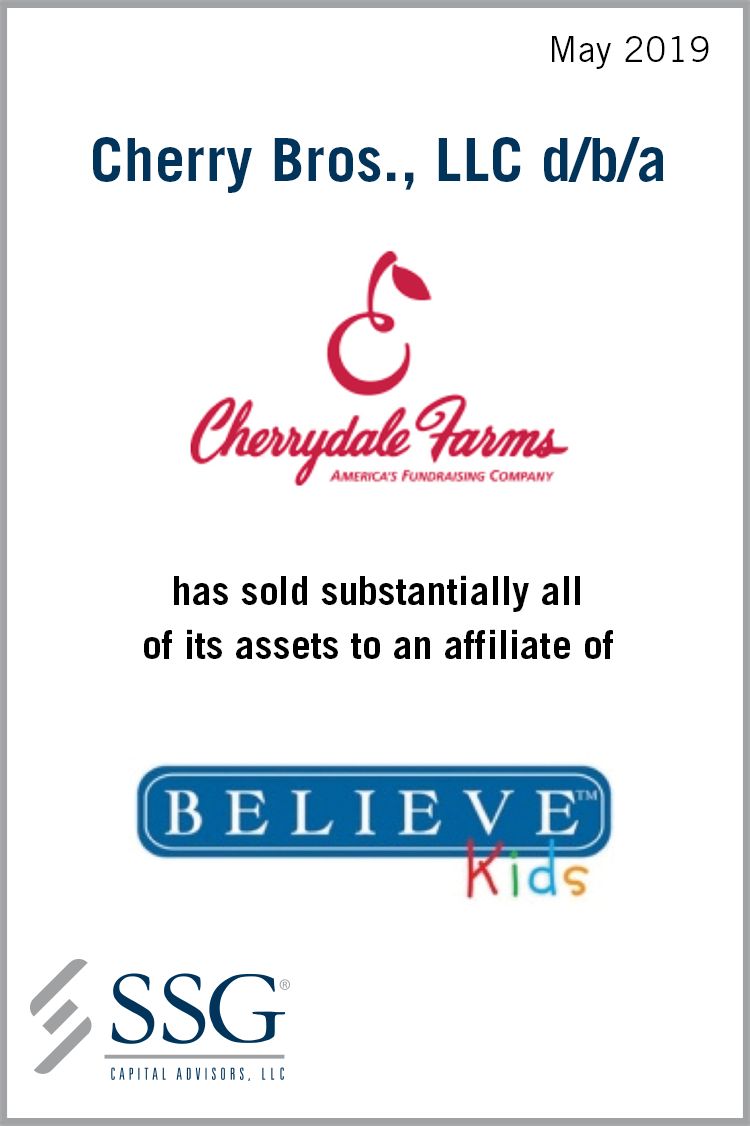 SSG Capital Advisors, LLC ("SSG") acted as the investment banker to Cherry Bros., LLC, d/b/a Cherrydale Farms ("Cherrydale Farms" or the "Company") in the sale of substantially all of its assets to an affiliate of Believe Group, LLC ("Believe"). The sale was effectuated through a Chapter 11 Section 363 process in the U.S. Bankruptcy Court for the Eastern District of Pennsylvania. The transaction closed in May 2019.
Headquartered in Lansdale, Pennsylvania, Cherrydale Farms is a leading provider of fundraising programs and productions for schools and non-profit organizations. In business for over 110 years, the Company distributes its products and services through a nationwide network of sales representatives, brochures and catalogues, and a robust online platform. When products are sold by participants, or monies are pledged/donated, the school or organization earns a percentage of the proceeds. The Company serves over 3 million participants annually and has raised over $2 billion for its non-profit partners.
After a long history of profitable operations and significant growth, Cherrydale Farms faced pressure resulting from costs associated with technology implementation and other non-recurring items. In response to these challenges, the Company successfully restructured its overhead to restore profitability. However, a new investor was required to finance operations and growth.
After evaluating alternatives, the Company determined that filing for Chapter 11 protection provided the best opportunity to effectuate a transaction and properly capitalize the business for future growth. SSG was retained to negotiate the stalking horse purchase agreement with Believe, conduct an expedited marketing process, and solicit offers from potential strategic and financial parties. After extensive marketing and discussion with potential interested parties, the stalking horse bid submitted by Believe was determined to be the highest and best price for substantially all of the Company's assets. SSG's experience in identifying buyers and running an extremely fast-paced sale process enabled stakeholders to maximize value in an expedited time frame.
Founded in 1998 and based in Denver, Colorado, Believe Kids™ provides fundraising programs to schools across the country.
Other professionals who worked on the transaction include:
• Michael Barrie, Sven Nylen, Jennifer Hoover and Kevin Capuzzi of Benesch, Friedlander, Coplan & Aronoff LLP, bankruptcy counsel to Cherry Bros., LLC;
• Daniel Barrison and Bruce Luckman of Sherman, Silverstein, Kohl, Rose & Podolsky, P.A., corporate counsel to Cherry Bros., LLC;
• Aris J. Karalis of Karalis P.C., counsel to the pre-petition lenders;
• Christopher Ward, Justin Edelson and Brenna Dolphin of Polsinelli PC, counsel to the Official Committee of Unsecured Creditors;
• Ted Gavin and Anne Eberhardt of Gavin/Solmonese LLC, financial advisor to the Official Committee of Unsecured Creditors; and
• Craig S. Krummen of Greenberg Traurig, LLP, counsel to Believe Group, LLC.