SSG Advises Connections Community Support Programs, Inc. in the Sale of Substantially all of its Assets to an Affiliate of Inperium, Inc.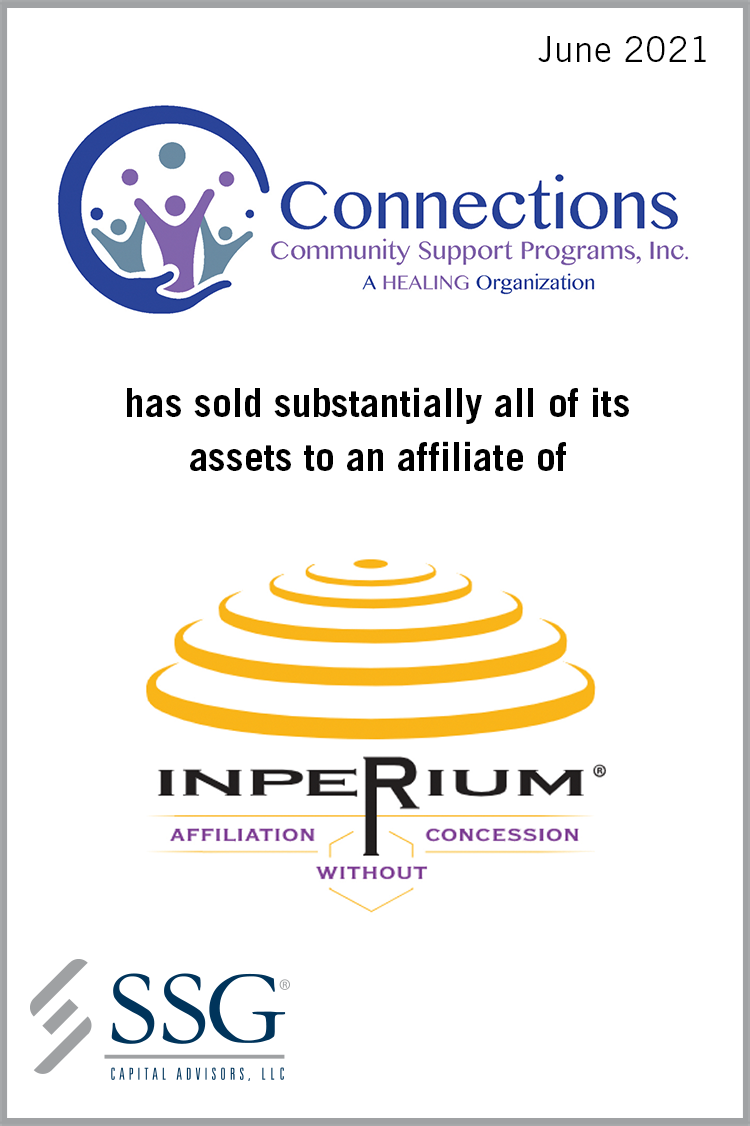 SSG Capital Advisors, LLC ("SSG") acted as the investment banker to Connections Community Support Programs, Inc. ("Connections") in the sale of substantially all of its assets to an affiliate of Inperium, Inc. ("Inperium"). The transaction closed in June 2021.
Founded in 1985, Connections is a Delaware based 501(c)3 not for profit provider of substance use and mental health treatment programs and services for adults and children at various levels along the continuum of care. Services include long and short term residential programs, community and home based programs, outpatient programs, medication assisted treatment programs, peer support programs, recovery residences and telehealth services. Connections is one of Delaware's largest nonprofits and is the contract provider of behavioral healthcare services for Delaware's multiple government agencies. Through its 1,000+ employees, 100+ locations and 20+ programs, Connections provides fulltime access to quality health care and treatment for approximately 10,000 lower income and/or at risk residents of Delaware.
Following year over year revenue growth, Connections experienced numerous challenges in calendar year 2020 that created a strain on performance and liquidity. This included the loss of one of its largest contracts resulting in a significant decline in revenue and cash flow. Without the benefit of consistent payments from this contract, it became apparent that Connections was not sufficiently staffed to manage the billing and collection of its remaining high volume, low margin receivables. These challenges were exacerbated by the COVID-19 pandemic as government mandates restricted its ability to provide in person treatments, which made up a significant portion of services.
SSG was retained in February 2021 to solicit interest from potential strategic partners capable of supporting the business long term and ensuring continued operation of all of Connections' programs and all patient services without interruption. After conducting a comprehensive pre-petition marketing process that attracted interest from numerous strategic parties, Connections filed for Chapter 11 protection in April 2021 to obtain access to cash collateral to fund operations and to effectuate a sale transaction. Inperium was designated as the stalking horse bidder and ultimately selected as the winning bidder for substantially all of Connections' assets and programs following a remarketing process and auction. The winning Inperium bid provided for the continuation of all programs and services for all patients, saved hundreds of jobs, paid all outstanding mortgage debt in full on 33 properties being acquired (which real estate was critical to the continued uninterrupted care of Connections' patients), left behind all accounts receivable for the estate and provided for a closing within an aggressive timeline driven by the liquidity position. SSG's extensive Chapter 11 transaction expertise and significant healthcare experience produced a successful outcome that maximized value in a highly expedited, complex process involving multiple stakeholders and, most importantly, ensured continued critical care for thousands of vulnerable Delaware residents.
Other professionals who worked on the transaction include:
Robert D. Katz of EisnerAmper LLP, Chief Restructuring Officer;
William E. Chipman, Jr., Mark L. Desgrosseilliers, Adam D. Cole, Mark D. Olivere and Aidan T. Hamilton of Chipman Brown Cicero & Cole, LLP, counsel to Connections Community Support Programs, Inc.;
Bert Orlov, Steven Bisciello, Christine Connor, Robert Trenk and Helen Boateng of EisnerAmper LLP, financial advisor to Connections Community Support Programs, Inc.;
Daniel J. Hennessey, Joseph H. Huston, Jr., G. Thompson Bell and Austin T. Marich of Stevens & Lee, counsel to Inperium, Inc.;
Brian Bonaviri, Jon Labovitz, Nicholas Haas, Holly Kelly, Peter Crew and Dylan Walsh of Grant Thornton LLP, financial advisor to Inperium, Inc.;
Brian M. Schenker and Derek M. Osei-Bonsu of Reed Smith LLP, counsel to the secured lender; and
Christopher A. Ward, Shanti M. Katona and Brenna A. Dolphin of Polsinelli PC, counsel to the Unsecured Creditors Committee.