SSG Advises Cooper-Booth Wholesale Company, L.P.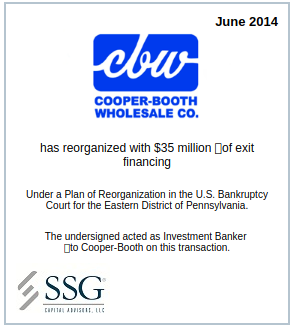 SSG Capital Advisors, LLC ("SSG") acted as the investment banker to Cooper-Booth Wholesale Company, L.P., Cooper-Booth Transportation Company, L.P. and Cooper-Booth Management Company, Inc. (collectively, "CBW" or the "Company") in the placement of an exit financing package which enabled the Company to refinance existing indebtedness and successfully exit Chapter 11 through a Plan of Reorganization. The transaction closed in June 2014.
CBW is one of the top 20 convenience store wholesale distributors in the United States and serves retailers in the Mid-Atlantic region. The family-owned Company was founded in 1865 and is based in Mountville, PA. Historically, CBW was a profitable operation. In May 2013, the Company learned that a customer located in Virginia was smuggling Virginia stamped cigarettes into New York. As part of an investigation by the federal government, a seizure warrant was issued against the Company's primary operating bank account, putting a freeze on the account and leaving CBW unable to access funds for day-to-day operations. In reaction to the seizure warrant, the Company's existing lender declared a default and immediately terminated the Company's line of credit. After evaluating a number of strategic options to address the seizure warrant, CBW determined that the best alternative was to file for Chapter 11 to protect its assets and provide time to reorganize and find a buyer for the business or secure financing.
SSG was retained as CBW's investment banker to find a solution for the Company to exit bankruptcy, including a sale of substantially all of the Company's assets or exit financing resulting in a plan of reorganization. SSG conducted a comprehensive marketing process which resulted in a wide range of potential buyers, including multiple strategic and financial parties interested in operating CBW as a going concern business. However, in November 2013, the Company settled the seizure warrant investigation with the federal government providing CBW the possibility to refinance existing debt and retain ownership of the business. SSG immediately commenced a financing process, resulting in multiple competitive term sheets. The exit financing of $35 million enabled CBW to confirm a Plan of Reorganization that paid all creditors in full plus interest. SSG's knowledge of the industry and flexibility in running concurrent sales and financing processes enabled the Company to continue as a going concern and maintain ownership for the family.
Other professionals who worked on the transaction include:
Aris J. Karalis, Camille Spinale, and Dustin G. Kreider of Maschmeyer Karalis P.C., counsel to Cooper-Booth Wholesale Company, L.P.;
Michael DuFrayne, Robert Agarwal and Geoffrey M. DuFrayne of Executive Sounding Board Associates, LLC, financial advisor to Cooper-Booth Wholesale Company, L.P.;
Morton R. Branzburg and Richard M. Beck of Klehr Harrison Harvey Branzburg, LLP, counsel to the Unsecured Creditors Committee;
Claudia Z. Springer, Derek J. Baker and Brian M. Schenker of Reed Smith, LLP, counsel to the Senior Lender;
Karen Lee "Kitt" Turner and Alan I. Moldoff of Eckert Seamans Cherin & Mellott, LLC, counsel to the Bonding Insurer;
Christopher D. Molen, W. Austin Jowers and Maria Danielle Merritt of King & Spalding, counsel to the Exit Lender; and,
Andrew F. Lucarelli of Brubaker Connaughton Goss & Lucarelli, LLC, counsel to the Exit Lender.