SSG Advises Costume Gallery Holdings, Inc. in the Sale of Substantially all of its Assets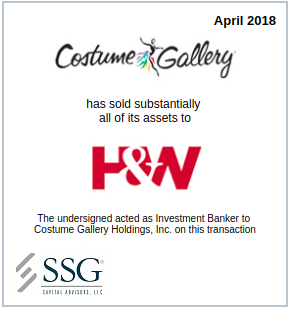 SSG Capital Advisors, LLC ("SSG") acted as the investment banker to Costume Gallery Holdings, Inc. in the sale of substantially all of its assets to Henry & Wallace, LLC ("H&W"). The transaction closed in April 2018.
Costume Gallery is a leading designer, marketer and manufacturer of specialty dancewear to studio owners, teachers and coaches with strategic focus on dancewear for recitals. Over its 70+ year history, the Company has developed a reputation for premium quality products and innovative costume styles across major dance genres for customers of all ages.
The Company historically generated consistent, year-over-year profitability and acquired a direct competitor, Art Stone, Inc. in order to further diversify its product portfolio, increase its customer base and scale the business. However, the integration created additional challenges that impacted the Company's ability to fulfill customer orders and address customer service issues in a timely manner. Costume Gallery's stakeholders supported the Company through these challenges by assisting management with the execution of numerous operational initiatives that addressed the fulfillment issues. During this process, the stakeholders sought a new owner to re-capitalize the business and support the strategic growth plan.
SSG was retained as the Company's exclusive investment banker to pursue sale alternatives and conducted a targeted marketing process to key strategic and financial buyers. Multiple parties engaged in a thorough review of the business and submitted offers for Costume Gallery. After considerable deliberation and negotiations, Costume Gallery was acquired by H&W.
H&W is a management company with a portfolio of companies primarily focused on manufacturing, real estate and building products industries. The firm has developed a principled approach, adequate scope of operations and fundamental differentiating factors which create an efficient deal investment and management platform.