SSG advises Counsel RB Capital, LLC in the sale of Gorham Paper Mill to an affiliate of Patriarch Partners, LLC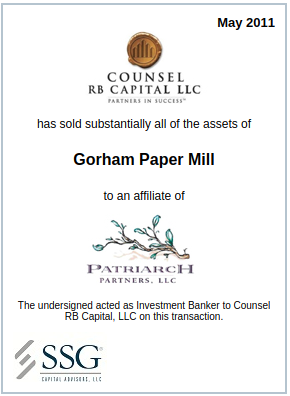 We are pleased to inform you that SSG Capital Advisors, LLC ("SSG") acted as the exclusive investment banker to Counsel RB Capital, LLC and its affiliate, FP Acquisitions, LLC ("Counsel RB") in the sale of Gorham Paper Mill in Gorham, NH to an affiliate of Patriarch Partners, LLC ("Patriarch"). The sale transaction closed on May 13, 2011.
The Gorham Paper Mill (the "Mill") was originally built in 1904 as part of Berlin Paper Mills. Over the next century, the Mill went through several ownership changes, with Fraser Paper acquiring the Mill through a bankruptcy sale in May 2002. Today, the Mill is a specialty, low-cost, non-integrated paper mill historically known for its extensive breadth of capability, producing a wide range of uncoated free-sheet grades for printing and specialty applications as well as towel and tissue products. The Mill encompasses a total of approximately 400,000 square feet of manufacturing and warehousing space. The Mill houses three operating printing presses capable of annually producing over 135,000 tons of paper products, with additional machinery capable of producing approximately 200,000 tons of paper products per year at full capacity.
In December 2010, Counsel RB acquired the Mill from Fraser Paper via a Canadian bankruptcy sale process. Prior to the sale to Counsel RB, the Mill was "wound down" and sold as an idled asset. As part of that sale, Counsel RB committed to try to find a permanent operating partner with the intention of restarting the Mill's production and restoring a historic paper-making tradition.
Counsel RB retained SSG as its exclusive investment banker in December 2010 to market the Mill to a permanent operating partner. SSG marketed the Mill to a wide range of strategic and financial parties, ultimately effectuating the sale of the Mill and substantially all of its assets to an affiliate of Patriarch Partners, LLC. The sale of the Mill was facilitated by the flexibility of the union workforce to restructure its contract and through extensive political and financial support from the State of New Hampshire. With the acquisition of the Mill, it is Patriarch's intention to resume production on a full-scale basis that should result in the rehiring of the Mill's employee workforce and reinvigorate the towns of Berlin and Gorham, NH.
Counsel RB specializes in the acquisition and disposition of distressed and surplus assets throughout the United States and Canada. Counsel RB acquires all manner of fixed and working capital assets including manufacturing facilities, industrial machinery and equipment, real property, inventories, accounts receivable and distressed debt.
Patriarch, which was founded and is led by Lynn Tilton, is an industry leader among private equity firms focused on acquiring and operating distressed businesses. Today, with approximately $7 billion of equity and secured loan assets under management, Patriarch focuses on investing in underperforming and distressed businesses. Patriarch has investments in over 70 businesses and maintains a controlling stake in approximately two-thirds of these businesses. Patriarch's specific focus on acquiring "orphaned" industrial companies has helped reinvigorate the American manufacturing sector and preserved nearly 250,000 U.S.-based jobs.
Other professionals who worked on the transaction include:
Thomas J. Coyne, Tony Kuhel and Catherine Beck of Thompson Hine LLP, corporate counsel to Counsel RB Capital, LLC;
Rolf Goodwin of McLane, Graf, Raulerson & Middleton P.A., New Hampshire counsel to Counsel RB Capital, LLC;
Harvey Chaiton and Maya Poliak of Chaitons LLP, Canadian Bankruptcy counsel to Counsel RB Capital, LLC;
Troy B. Lewis, Michelle R. Brown, Teresa M. Cefalo and Aaron P. Stevens of Jones Day, corporate counsel to Patriarch Partners, LLC;
Benjamin E. Marcus of Drummond Woodsum & MacMahon, New Hampshire counsel to Patriarch Partners, LLC; and
Sheryl E. Seigel of McMillan LLP, Canadian Bankruptcy counsel to Patriarch Partners, LLC.
About SSG Capital Advisors, LLC SSG Capital Advisors, LLC ("SSG") is a leading independent boutique investment bank that assists middle market companies, as well as their stakeholders, complete special situation transactions. As a specialist in mergers and acquisitions, financial advisory, capital raises, financial restructurings and complex valuations, we offer the expertise our clients need in today's complex and fast-moving financial markets. As a partner-owned firm with a clear focus, we offer the personal attention of our senior partners, entrepreneurial spirit, and agility in the marketplace that middle-market businesses expect. Since 2001, SSG has successfully completed over 180 special situation investment banking assignments on behalf of clients in North America and Europe.