SSG Advises Cover FX in the Sale of Substantially All of its Assets to AS Beauty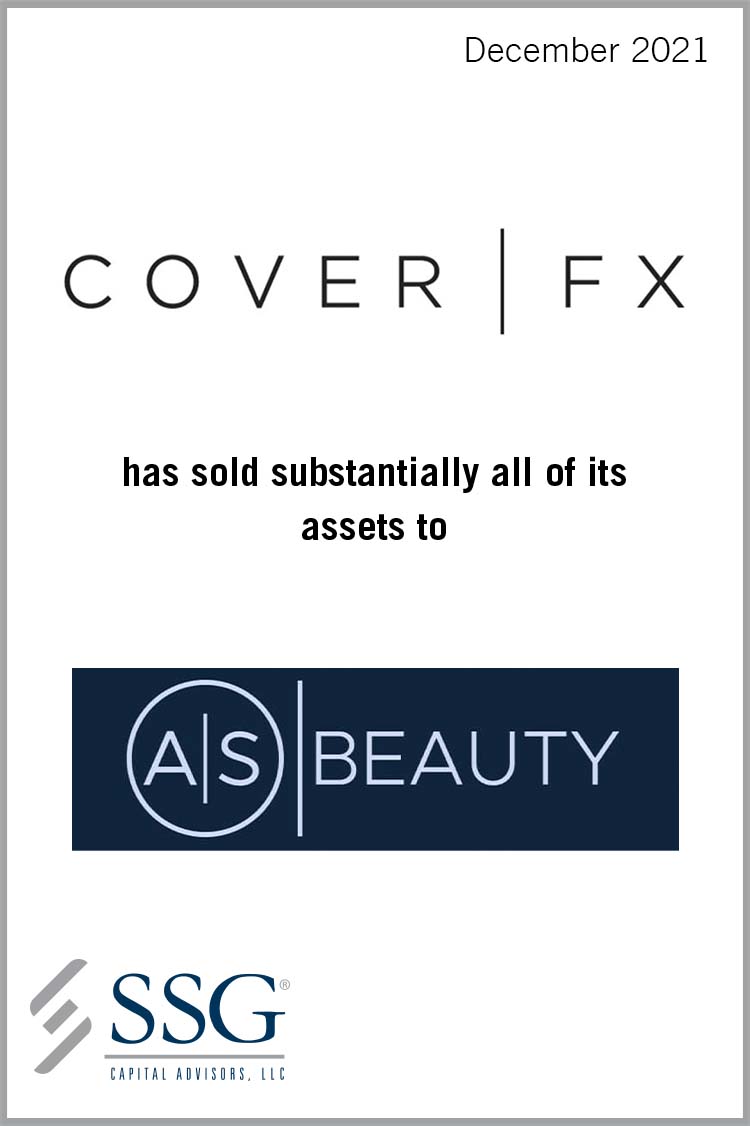 SSG Capital Advisors, LLC ("SSG") acted as the investment banker to Cover FX Skin Care Limited ("Cover FX" or the "Company") in the sale of substantially all of its assets to AS Beauty Group, LLC ("AS Beauty"). The transaction closed in December 2021.
Founded over 20 years ago, New York-based Cover FX is a beloved producer of clean, high-performance, vegan and cruelty-free cosmetics. All of its products are made with safe, non-toxic ingredients recommended for all skin types and offered in a global palette for every skin tone. Key product lines include primers, foundations, concealers, setting powders, setting sprays and mascara. With a customizable approach to color and coverage, the Company's products engage customers with complexion-enhancing and skincare-loving makeup.
Cover FX's products were primarily sold through dedicated cosmetic retailers and department stores. However, the pandemic caused the Company's traditional retailers to reset shelf space, reduce inventory levels, and change purchasing patterns, negatively impacting top-line sales. In response, Cover FX rapidly accelerated its e-commerce and digital growth strategy, reduced costs, and invested resources in its e-commerce platform. To achieve its long-term objectives, the Company sought a strategic partner or investor to strengthen its capital base and solidify operations for future growth.
SSG was retained to conduct a comprehensive marketing process and solicit offers. Leveraging its significant consumer products experience, SSG canvassed a wide range of investors, delivering competitive offers from multiple strategic parties, including brand aggregators, that engaged in a thorough review of the business. The sale to AS Beauty proved to be the best solution as it provides Cover FX with the capital and operational expertise to execute its growth plan. SSG's experience running efficient sale processes enabled Cover FX to continue operations, preserve the brand, maintain customer loyalty, and maximize value for all stakeholders.
Headquartered in New York City, AS Beauty is focused on developing global beauty brands that deliver real-world solutions to a diverse consumer base. Founded in 2019 by Alan and Joey Shamah, the original founders of e.l.f. Cosmetics, AS Beauty's current portfolio consists of Julep Beauty, Laura Geller, and Mally Beauty.
Other professionals who worked on the transaction include:
George P. Angelich, Justin A. Kesselman, Eric B. Hamburg, and Patrick Feeney of Arent Fox LLP, counsel to Cover FX Skin Care Limited;
Bruce Chapple and Tushara Weerasooriya of McMillan LLP, Canadian counsel to Cover FX Skin Care Limited;
Eric M. Huebscher of Huebscher & Co., Financial Advisor to Cover FX Skin Care Limited;
William Lenhart of WKL Advisors, LLC, Independent Board Member to Cover FX Skin Care Limited;
Michael B. Goldsmith, Marc D. Leve and Elyse A. Marcus of Sills Cummis & Gross P.C., counsel to AS Beauty Group, LLC; and
Brent R. McIlwain of Holland & Knight LLP, counsel to the secured lender.