SSG Advises Coyne International Enterprises Corp. in the Sale of Substantially All of its Assets to Cintas Corporation, Prudential Overall Supply, Inc., Clean Rentals, Inc. and Pendera Holdings, LLC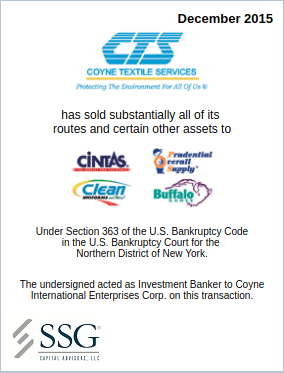 SSG Capital Advisors, LLC ("SSG") acted as the investment banker to Coyne International Enterprises Corp. ("Coyne" or the "Company") in the sale of substantially all of its assets to Cintas Corporation No. 2, Prudential Overall Supply, Inc., Clean Rentals, Inc. and Pendera Holdings, LLC. The sale was effectuated through a Chapter 11 Section 363 process in the U.S. Bankruptcy Court for the Northern District of New York and closed in December 2015.
Coyne operated for more than 80 years and grew into one of the largest privately-owned industrial laundry companies in the United States. The large majority of the Company's recurring route-based revenue is derived from its garment rental business. The Company offers an extensive portfolio of products and services: Coyne rents, leases, sells, and launders textile products including workplace uniforms, career apparel, protective garments, shop towels, reusable absorbent socks and pads, floor mats, treated dust mops and wet mops. The Company also provides linens, mats, towels, and restroom hygiene products including restroom towels, sanitizers, deodorizers, and soaps.
In 2013, Coyne experienced a decline in revenue and profitability due to the loss of certain key customers. In response, management implemented personnel and operational initiatives focused on increasing revenue, reducing costs and improving efficiencies throughout the organization and subsequently retained SSG to evaluate strategic alternatives.
SSG conducted a comprehensive marketing process which resulted in a wide range of interest from potential strategic and financial parties. The process resulted in eight qualified bids for the assets in whole and/or in part. To best maximize value, SSG and Coyne's professionals selected four buyers to form a combined bid for substantially all of Coyne's assets. Cintas Corporation purchased the routes and certain other assets associated with the Company's Bristol, TN; Buffalo, NY; Cleveland, OH; London, KY; Syracuse, NY and York, PA locations. Clean Rentals, Inc., purchased the routes of the Company's New Bedford, MA location. Prudential Overall Supply, Inc., purchased the routes and real estate of the Company's Richmond, VA location in addition to the routes of the Greenville, SC location. Pendera Holdings, LLC purchased the real estate of the Buffalo, NY location. SSG's experience in identifying buyers and running a thorough sale process created a competitive auction environment and yielded final bids in excess of the stalking horse bids. The value created by the auction maximized recovery for key stakeholders.
Other professionals who worked on the transaction include:
Mark Samson, CEO, Coyne International Enterprises Corp.;
Bill Henrich of Getzler, Henrich & Associates, LLC, Chairman of the Board;
Stephen B. Selbst, Robert L. Rattet, Joel Wagman, Hanh Huynh and Vivian Wang of Herrick Feinstein, LLP, counsel to Coyne International Enterprises Corp.;
Bernard A. Katz and Joseph C. Baum of CohnReznick, LLP, financial advisors to Coyne International Enterprises Corp.;
Randall L. Klein and Prisca Kim of Goldberg, Kohn, Bell, Black, Rosenbloom & Moritz Ltd., counsel to NXT Capital, LLC;
Paul Andrews and Vladimir Kasparov of Andrews Advisory Group, LLC, financial advisors to NXT Capital, LLC;
Thomas R. Califano and Harriet Lipkin of DLA Piper US, LLP, counsel to Medley Capital Corporation;
Lee Woodard and Wendy Kinsella of Harris Beach PLLC, Bankruptcy Examiner;
Jeffery A. Dove of Menter, Rudin & Trivelpiece, P.C. and Ericka F. Johnson and Matthew P. Ward of Womble, Carlyle, Sandridge & Rice, LLP, counsel to the Official Committee of Unsecured Creditors;
D. Brock Denton, Robert E. Coletti, Robert G. Sanker, Julie Muething, Ross J. Bextermueller and Andrew J. Kaminski of Keating, Muething & Klekamp, PLL, counsel to Cintas Corporation;
David A. Rosenzweig and Rebecca J. Winthrop of Norton Rose Fulbright, LLP and John Tishbi of Pearlman & Tishbi, counsel to Prudential Overall Supply, Inc.;
Paul Plourde of Plourde, Bogue, Moylan & Marino, LLP, counsel to Clean Rentals, Inc.; and
Mark J. Schlant of Zdarsky, Sawicki & Agostinelli, LLP, counsel to Pendera Holdings, LLC.