SSG Advises Custom Ultrasonics, Inc. in its Sale to Wassenburg Medical B.V.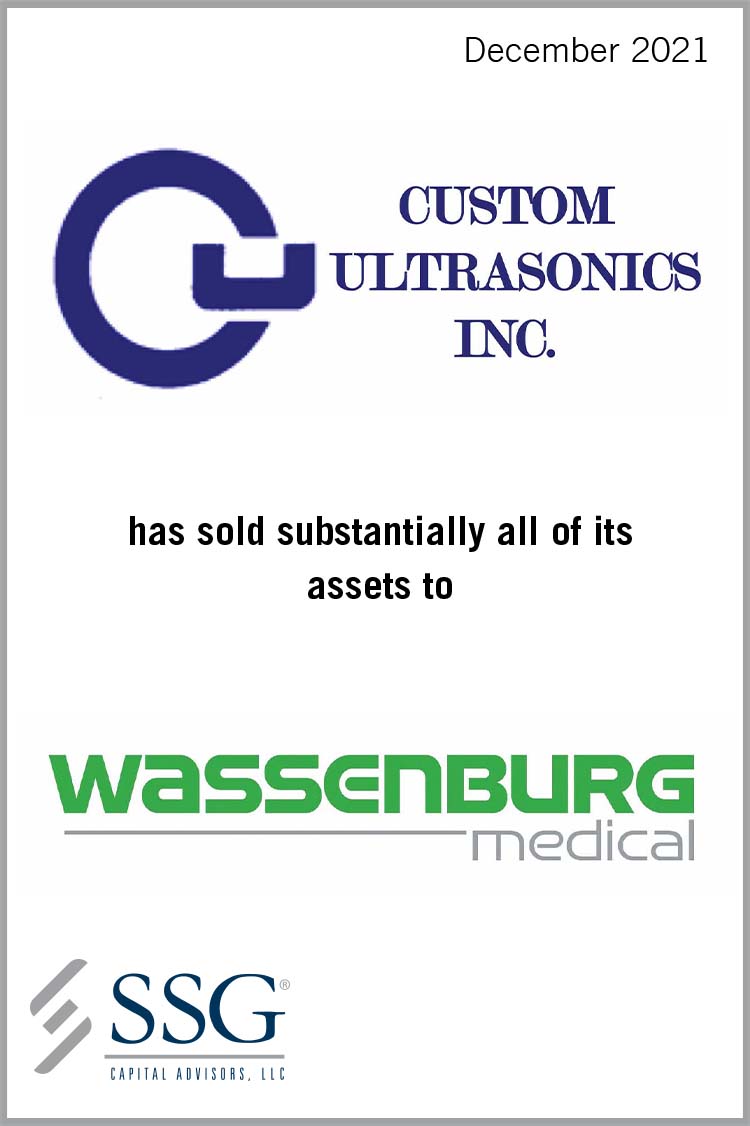 SSG Capital Advisors, LLC ("SSG") acted as the investment banker to Custom Ultrasonics, Inc. ("CUI" or the "Company") in the sale of substantially all of its assets to Wassenburg Medical B.V. ("Wassenburg"). The transaction closed on December 31, 2021.
Headquartered in Ivyland, Pennsylvania, CUI is a family-owned manufacturer of automated systems and equipment used to disinfect flexible endoscopes. The Company's products facilitate the entire endoscopy re-processing cycle from manual pre-cleaning to high-level disinfection and proper storage. CUI's product portfolio consists of pre-processing sinks, an automated endoscopy re-processor ("AER") and endoscope storage cabinets. Additionally, the Company offers a number of consumables and services to support the ongoing use of its AER after the initial sale.
Founded in 1981, CUI established a reputation as a pioneer in the AER market. However, for the past decade, the overall AER industry, including the Company, faced several regulatory matters with the United States Food and Drug Administration ("FDA"). CUI entered into a Consent Decree that called for quality improvements of its principal AER in 2007. The matter culminated in 2012 when the FDA ordered the Company to suspend manufacturing of the AER pending further validation of its effectiveness. Under current leadership, CUI completed several milestones required by the FDA and received a resumption of manufacture letter in 2017. The Company successfully completed validation testing to permit the re-processing of certain duodenoscopes using its principal product in 2018.
SSG was retained to assist CUI in the exploration of available strategic alternatives, including a financing or sale of the Company. SSG conducted a broad marketing process and solicited interest from potential lenders as well as strategic and financial buyers. After receiving significant interest from a number of strategic acquirers, CUI ultimately decided to pursue a sale of the Company to Wassenburg given the logical strategic alignment between the two businesses. The transaction provides both CUI and Wassenburg opportunities to expand their respective product portfolios, enter new geographic markets and strengthen current customer relationships. SSG's experience advising clients navigating operational disruptions was critical to the successful sale of CUI to Wassenburg, especially given the various milestones required.
Headquartered in Dodewaard, The Netherlands, Wassenburg Medical B.V. is a highly regarded specialist in all aspects of automated endoscope reprocessing. Originally a family company, Wassenburg has been in a joint venture with Hoya Corporation since 2013.
Other professionals who worked on the transaction include:
Edward Teitel of The Teitel Firm, counsel to Custom Ultrasonics, Inc.;
Howard N. Greenberg and Jill M. Bellak of Semanoff Ormsby Greenberg & Torchia, LLC, counsel to Custom Ultrasonics, Inc.; and
Alycia M. Vivona of Stradley Ronan Stevens & Young, LLP, counsel to Wassenburg Medical B.V.