SSG Advises Cylex, Inc. in the Sale of its Assets to Viracor-IBT Laboratories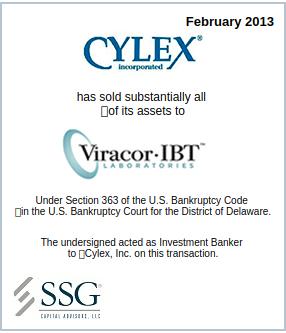 We are pleased to inform you that SSG Capital Advisors, LLC ("SSG") acted as the exclusive investment banker to Cylex Inc. ("Cylex") in the sale of substantially all of its assets to Viracor-IBT Laboratories ("Viracor-IBT"). The sale was effectuated through a Chapter 11 Section 363 process and was approved by the Bankruptcy Court and closed in February 2013.
Cylex, based in Columbia, MD, is a global life sciences company focused on the research, development, manufacturing and commercialization of in vitro diagnostic products intended to illuminate immunity in the area of transplant medicine. The company's core product, ImmuKnow®, is a noninvasive biomarker of immune function that assesses cellular immune status by detecting cell-mediated immunity in patients undergoing immunosuppressive therapy for organ transplant.
Cylex was subject to a government investigation triggered by a False Claims Act qui tam action. The uncertainty over the investigation constrained Cylex's ability to attract further investment and the legal expenses for defending the action created a financial burden that starved the company of cash to fund operations and grow the business. As a result, Cylex pursued a strategy utilizing the Chapter 11 bankruptcy Section 363 sales process to allow a buyer to purchase the assets free and clear of the False Claims Act claims. After executing an asset purchase agreement with the stalking horse bidder, the Chapter 11 case was filed in the U.S. Bankruptcy Court for the District of Delaware in December 2012.
SSG was retained as Cylex's investment banker to facilitate a sale of substantially all of the assets. SSG conducted a comprehensive marketing process that resulted in a small pool of potential strategic buyers with the requisite market presence and technical expertise to acquire and successfully operate the business. SSG negotiated an asset purchase agreement with Oxford Immunotec of the United Kingdom, the stalking horse bidder, and conducted an accelerated remarketing process to identify additional bidders. Two additional qualified bids were received and after 16 rounds of bidding, spanning more than 12 hours, the all cash bid without conditions or escrow holdback from Viracor-IBT was determined to be the highest and best price for Cylex's assets. SSG's experience in running efficient and timely Chapter 11 sales processes and its knowledge of the market enabled stakeholders to increase sale proceeds by more than $8 million over the stalking horse bid and for 2.6 times revenue, a multiple typically reserved for healthy companies in the industry.
Viracor-IBT, based in Lee's Summit, MO, is a specialty diagnostics laboratory for immunology, infections disease and allergy testing. It was created through the merger of two specialty diagnostic testing labs, Viracor Laboratories and IBT Laboratories, and is majority owned by Ampersand Capital Partners, a healthcare-focused middle market private equity firm.
Other professionals who worked on the transaction include:
Robert Eisenbach, Kenneth Krisko, Ryan Naftulin, Lesley Kroupa, Alex Velinsky and Robert Winning of Cooley LLP, counsel to Cylex, Inc.;
William P. Bowden, Stacy Lynn Newman and Karen Skomorucha Owens of Ashby & Geddes, PA, Delaware counsel to Cylex, Inc.;
Jonathan L. Diesenhaus of Hogan Lovells, litigation counsel to Cylex, Inc.; and
Edward F. Amer and David J. Fischer of Edwards Wildman Palmer LLP, counsel to Viracor-IBT Laboratories.