SSG Advises DFW Grating, Inc. on the Sale of Substantially All of its Assets to a Subsidiary of Powerbrace Corporation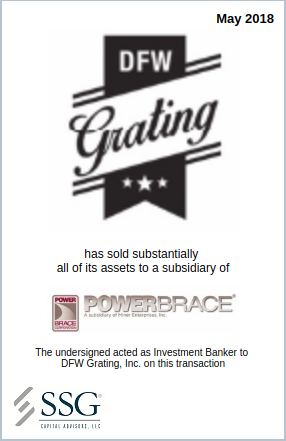 SSG Capital Advisors, LLC ("SSG") acted as the investment banker to DFW Grating, Inc. ("DFW" or the "Company") in the sale of substantially all of its assets to a subsidiary of Powerbrace Corporation ("Powerbrace"). The transaction closed in May 2018.
DFW is a leading manufacturer and fabricator of bar, diamond and round hole safety grating products, primarily for rail and industrial applications. The Company offers a full line of products and solutions ranging from one-off custom orders to mass quantity OEM product runs. Founded in 2003, DFW has aggressively invested in expanding its capabilities and capacity and today occupies 113,000 square feet of manufacturing space strategically located in Dallas, Texas. DFW is one of only a few American Association of Railroads approved manufacturers of welded steel bar grating in North America.
SSG was retained by DFW as its exclusive investment banker to explore strategic alternatives including a refinancing of the existing indebtedness to fund future initiatives or a sale of the business. SSG conducted a comprehensive marketing process and contacted potential lenders, investors and strategic acquirers to achieve an optimal outcome for the Company and its stakeholders. Ultimately, a sale of substantially all of the Company's assets to Powerbrace was determined to be the best alternative.
Powerbrace Corporation is a wholly-owned subsidiary of Miner Enterprises, Inc., a supplier to the railroad industry since 1894, with world headquarters in Geneva, Illinois. For over 50 years, Powerbrace has been the premier original equipment manufacturer of light, medium, and heavy-duty door securement products for cargo that is shipped by trailer or container.
Other professionals who worked on the transaction include:
Nate Blackburn and Tucker Thomas of Blackwell, Blackburn, & Singer, LLP, counsel to DFW Grating, Inc.; and
Michael C. Jurasek, Christopher A. Deabler and James R. Litzow of Taft Stettinius & Hollister LLP, counsel to Powerbrace Corporation and Miner Enterprises, Inc.