SSG Advises Edgmont Golf Club in the Placement of Exit Financing and in the Sale of Substantially All of its Assets to a Partnership Between Ridgewood Real Estate Partners and Angelo, Gordon & Company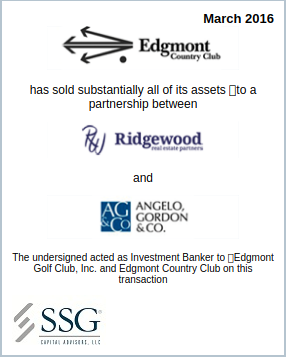 SSG Capital Advisors, LLC ("SSG") acted as the investment banker to Edgmont Golf Club, Inc. and Edgmont Country Club (collectively, "Edgmont", the "Property" or the "Club") in the placement of exit financing and in the sale of substantially all of its assets to Ridgewood Real Estate Partners, in partnership with Angelo, Gordon & Company ("Ridgewood/Angelo Gordon"). The exit financing and subsequent sale were effectuated through a Chapter 11 bankruptcy plan of reorganization, which was approved by the Bankruptcy Court in August 2015 and closed in March 2016.
Edgmont is a private non-equity 18-hole golf club situated on over 189 acres on the northern border of Delaware County and Chester County, PA. While the Property and locale were satisfactory for country club and golf course use, the increasing population in the vicinity of the Club and the resulting demand for single family housing made the residentially-zoned land a strong commodity.
As a result of declining golf play and revenue, the Club encountered significant challenges in servicing its secured debt and paying its vendors. These challenges, combined with an aggressive collection pursuit by its senior lender, resulted in the Club filing for Chapter 11 bankruptcy in the Eastern District of Pennsylvania in October 2013.
Edgmont retained SSG to explore strategic alternatives, including a sale of substantially all of its assets. SSG conducted a comprehensive marketing process which resulted in a wide range of interest from potential buyers and a number of proposed offers. Ultimately, Edgmont executed both a loan agreement and an asset purchase agreement with Ridgewood/Angelo Gordon to fund the plan of reorganization, where all creditors were paid in full, and to subsequently purchase substantially all of Edgmont's assets, which provided a significant distribution to equity.
Other professionals who worked on the transaction include:
Aris J. Karalis and Camille Spinale of Maschmeyer Karalis P.C, counsel to Edgmont;
Guy Messick of Messick & Lauer P.C., counsel to equity owners;
Joseph Patrick O'Brien of KAO Law Associates, counsel to equity owners;
James W. Hennessey and Jennifer L. Maleski of Dilworth Paxson LLP, counsel to the secured lender;
Arthur J. Abramowitz of Sherman, Silverstein, Kohl, Rose & Podolsky, P.A., bankruptcy counsel to Ridgewood/Angelo Gordon; and
Howard M. Brown of Howard M. Brown, LLC, real estate counsel to Ridgewood/Angelo Gordon.