SSG Advises Essex Crane Rental Corp. in the Sale of its Core Assets to Maxim Crane Works, L.P., a Portfolio Company of Apollo Global Management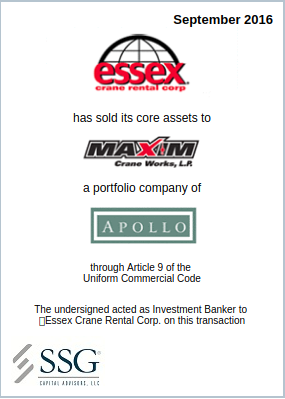 SSG Capital Advisors, LLC ("SSG") acted as the investment banker to Essex Crane Rental Corp. ("ECRC" or the "Company") in the sale of its core assets to Maxim Crane Works, L.P. ("Maxim"), a portfolio company of Apollo Global Management ("Apollo"). The sale was effectuated under UCC Article 9 and closed in September 2016.
Founded in 1960, the Company is one of North America's largest bare rental crawler crane providers. ECRC specializes in heavy lift capacity cranes with lift capabilities ranging from 100 to 440 tons, and also offers specialty attachments that can increase lift capacity up to 660 tons. The Company utilizes its diverse geographic footprint across the United States to service customers throughout North America. The Company's cranes are used primarily in construction activities, including large infrastructure and industrial projects. While utilization of hydraulic cranes has rebounded and been trending upward since 2010, continued under-utilization in the conventional crane fleet negatively impacted the overall fleet's utilization. The existing capital structure severely constrained cash flow and management's ability to re-invest in growth through replacement of the rental fleet, particularly the older conventional models.
SSG was retained as ECRC's exclusive investment banker in December 2015. SSG conducted a comprehensive marketing process, contacting a broad universe of strategic and financial buyers to achieve an optimal outcome for the Company and its key stakeholders. The process attracted significant interest from the market with Maxim, a portfolio company of Apollo, ultimately submitting the most compelling offer to ECRC and its stakeholders. Subsequent to the sale to Maxim, SSG also assisted Essex's stakeholders in selling the Company's non-core assets to Walter Payton Power Equipment, LLC.
Maxim Crane Works, L.P. is the largest coast-to-coast supplier of crane rental and lifting services, including engineering, specialized rigging and heavy haul capabilities.
Apollo Global Management is a leading global alternative investment manager that invests in private equity, credit and real estate, with significant distressed expertise.
Other professionals who worked on the transaction include:
Stephen S. Gray of Gray & Company, LLC, Chief Restructuring Officer to Essex Crane Rental Corp.;
Matthew D. Pascucci and Rudolph J. Morando, Jr. of Deloitte CRG, financial advisor to Essex Crane Rental Corp.;
William R. Baldiga, Todd J. Emmerman, Bennett S. Silverberg, Mary D. Bucci, Helene D. Jaffe, Kevin P. Joyce, Barbara J. Kelly, Steven T. Cheng and Jonathan T. Fitzsimons of Brown Rudnick LLP, counsel to Essex Crane Rental Corp.;
Jeremy M. Downs, Denise B. Caplan, Stephen J. Legatzke and Priyanko Paul of Goldberg Kohn Ltd., counsel to the senior lending group;
Paul J. Andrews and Vladimir A. Kasparov of Andrews Advisory Group, financial advisor to the senior lending group;
Brian P. Finnegan, Brian M. Janson, Peter E. Fisch, Alyssa F. Wolpin, Zachary J. King, Daniel Kunstlinger, Nicole A. Escobar, Matthew R. Vittone and Eric C. Johnson of Paul, Weiss, Rifkind, Wharton & Garrison LLP, counsel to Maxim Crane Works, L.P.;
Scott N. Schreiber of Clark Hill PLC, counsel to Maxim Crane Works, L.P.; and
Steven Perl and Stanley Chae of PricewaterhouseCoopers, financial advisor to Maxim Crane Works, L.P.