SSG Advises Essex Technology Group, Inc. on its Merger with Converge Technology Solutions Corp.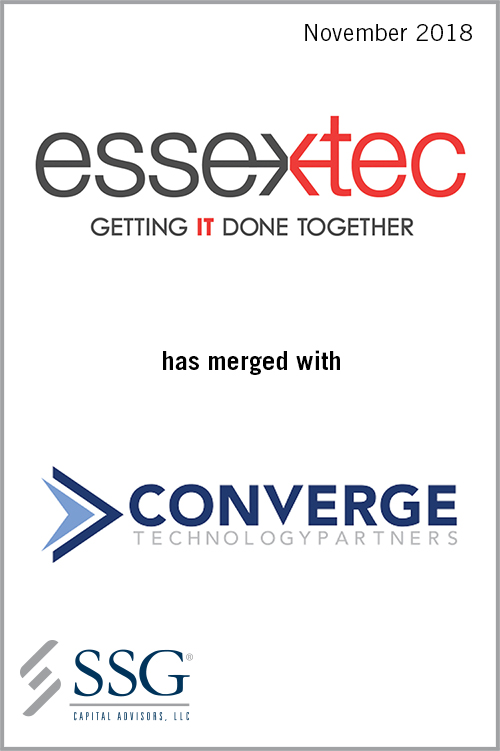 SSG Capital Advisors, LLC ("SSG") acted as the investment banker to Essex Technology Group, Inc., ("Essextec" or the "Company") on its merger with Converge Technology Solutions Corp. ("Converge"). The transaction closed in November 2018.
Essextec is a leading technology solutions provider that offers cutting edge cloud, cognitive and cybersecurity solutions. Recognized as a Platinum Business Partner by IBM, the Company works with its top-tier client base by guiding them through digital transformations and building secure cognitive applications in hybrid cloud environments. Headquartered in New York City, Essextec is also a value-added reseller of hardware and software for cloud infrastructure as well as server, storage and network applications. Over its history, Essextec has invested in and expanded its capabilities and competencies by building highly skilled IT consulting teams which are industry thought leaders and experts in technology and cybersecurity.
SSG was retained by Essextec as its exclusive investment banker for the purpose of exploring strategic alternatives, including a sale or merger of its business. SSG conducted a comprehensive marketing process, contacting investors and strategic acquirers in order to generate the best outcome for the Company's stakeholders. Ultimately, a merger between Essextec and Converge was determined to be the best alternative for Essextec.
Converge provides a platform of companies at the intersection of innovation accelerators and foundational infrastructure solutions to deliver best-of-breed solutions and services to its customers. Over the last year, Converge has rapidly expanded its holdings by bringing six companies onto its platform. The Converge family of companies includes Corus Group, LLC; Northern Micro, Inc.; Becker-Carroll, Inc.; Key Informations Systems, Inc.; BlueChipTek; and with this merger, Essextec. Converge's capabilities are enhanced by advanced expertise in cloud solutions, blockchain, resiliency and managed services, enabling Converge to address the business and IT issues that public and private-sector organizations face today. With offices across the U.S., Canada, and the U.K., Converge has the geographic reach to efficiently serve global customers. Converge acts as a trusted partner to its customers by bringing together world-class solutions and services that help reduce costs, increase efficiency and create competitive advantages.
Other professionals who worked on the transaction include:
William K. Lenhart of WKL Advisors, LLC, financial advisor to Essex Technology Group, Inc.;
Christopher J. Kula and Joseph B. Doll of Cole Schotz P.C., counsel to Essex Technology Group, Inc.; and
Jordan B. Taylor and Deryk A. Loiacono of Holland & Knight LLP, counsel to Converge Technology Solutions Corp.