SSG Advises FIKA in the Sale of Substantially All of its Assets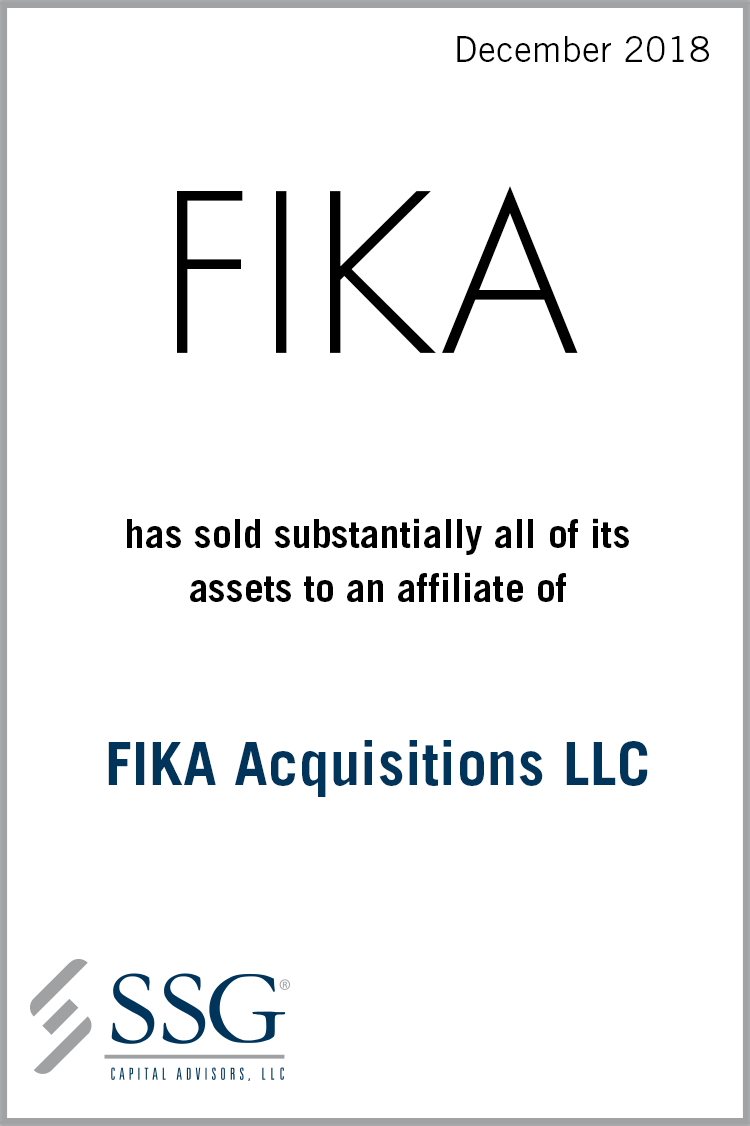 SSG Capital Advisors, LLC ("SSG") acted as the investment banker to Pachanga, Inc., et al, d/b/a FIKA ("FIKA" or the "Company") in the sale of substantially all of its assets to an affiliate of FIKA's senior secured lenders ("FIKA Acquisitions LLC"). The sale was effectuated through a Chapter 11 Section 363 process in the U.S. Bankruptcy Court for the Southern District of New York. The transaction closed in November 2018.
Founded in 2006 and headquartered in New York City, FIKA operates a chain of specialty espresso bars and restaurants. The Company also manufactures award-wining chocolates and other wholesale products for high end food retailers. The Swedish concept of "fika" means "to drink coffee" and FIKA was created to represent the coffee culture in Sweden where taking a break to enjoy several fikas a day is a common tradition. FIKA operates espresso bars at six locations, a bakery and kitchen, a chocolate factory and conducts catering and e-commerce businesses.
After several years of organic and steady growth, FIKA's operations underwent rapid expansion in 2013 by bringing in an outside investor and opening twelve more stores (for a total of 17 locations) in 2014 and 2015. The rapid expansion required significant start-up costs for each of the locations before they could become profitable. FIKA was unable to secure additional funding to cover the expansion costs and its operations could not absorb the increased start-up expenses from the new retail locations. The legacy costs from the aggressive expansion prompted FIKA to identify alternate sources for funding but no party agreed to provide capital so the Company was forced to return to a streamlined, conservative business model centered on profitable stores. In early 2018, FIKA reached an agreement in principle with an affiliate of a large national distributor regarding a potential investment in the Company in connection with the prepetition purchase of its debt and an acquisition of FIKA's assets through a section 363 sale in bankruptcy. FIKA anticipated a bankruptcy filing to effectuate the acquisition; however the timing of the filing was accelerated by the closure of the retail stores by the New York State Department of Taxation and Finance, which caused severe disruptions to the Company's operations and resulted in the prompt commencement of the bankruptcy filing in September 2018.
SSG was retained in September 2018 to conduct a comprehensive marketing process and solicit offers from potential strategic and financial parties. After extensive marketing and discussion with potential interested parties, the stalking horse credit bid submitted by FIKA Acquisitions LLC was determined to be the highest and best price for substantially all of the Company's assets. SSG's industry knowledge from prior transactions and experience with efficient Chapter 11 sale processes enabled the Company to maximize the value of the assets and emerge from bankruptcy in a timely manner.
Other professionals who worked on the transaction include:
Paul A. Rubin and Hanh V. Huynh of Rubin LLC, counsel to Pachanga, Inc., d/b/a FIKA;
Eddy Friedfeld, Independent Director to Pachanga, Inc., d/b/a FIKA; and
Frederick "Erik" E. Schmidt, Jr. of Cozen O'Connor, counsel to FIKA Acquisitions LLC.