SSG Advises FriendFinder Networks Inc.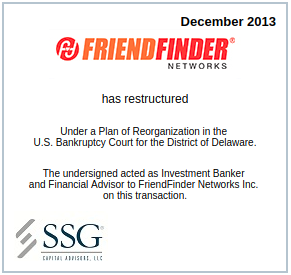 SSG Capital Advisors, LLC ("SSG") acted as the investment banker and financial advisor to FriendFinder Networks Inc. ("FFN" or the "Company") in the restructuring of FFN's $234.3 million senior secured notes and $329.6 million second lien notes pursuant to a Chapter 11 Plan of Reorganization (the "Plan") in the U.S. Bankruptcy Court for the District of Delaware. The transaction closed in December, 2013.
Headquartered in Sunnyvale, CA, FFN is an internet and technology company providing services in the social networking and web-based video sharing markets. FFN's business consists of creating and operating technology platforms which run several websites throughout the world appealing to users of diverse cultures and interest groups. The Company is also engaged in entertainment activities consisting of publishing, licensing, studio production and distribution of adult-oriented entertainment and materials. The Company publishes Penthouse and other magazines and digests. Additionally, the Company licenses the Penthouse name for the international publication of various adult magazines and for use on various products. FFN also provides multimedia entertainment products and services, including content for pay-per-view programming.
As a result of a highly levered capital structure coupled with declining financial performance and pending debt maturities, the Company filed for protection under Chapter 11 of the U.S. Bankruptcy Code in September, 2013 in order to effectuate a restructuring transaction that would delever the business and provide for greater financial stability.
The Company retained SSG to provide various services to support the proposed Plan, including a liquidation valuation, enterprise valuation, equity valuation and feasibility analysis. The Plan was confirmed and closed in December, 2013. The Plan will reduce the Company's annual interest expense by over $50 million, eliminate over $300 million of secured debt and return control of the Company to the FFN founder, Andrew Conru.
Other professionals who worked on the transaction include:
Nancy A. Mitchell, David D. Cleary, Dennis A. Meloro and Matthew L. Hinker of Greenberg Traurig, counsel to FriendFinder Networks Inc.;
Neil J. Wertlieb and David B. Zolkin of Milbank, Tweed, Hadley & McCloy, counsel to the First Lien Creditors; and
Joshua M. Mester and Joshua D. Morse of Jones Day, counsel to the Second Lien Creditors.