SSG Advises Green Tree School & Services in its Sale to Affiliates of Salisbury Management, Inc.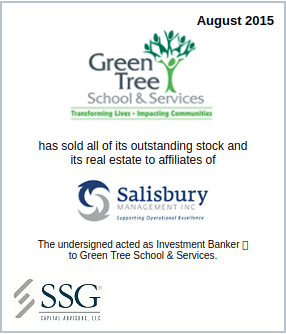 SSG Capital Advisors, LLC ("SSG") acted as the investment banker to Green Tree School & Services ("Green Tree" or the "Organization") in the sale of all of its outstanding stock and its real estate to affiliates of Salisbury Management, Inc. ("Salisbury"). The real estate transaction closed in June 2015 and the stock transaction closed in August 2015.
Green Tree is a non-profit organization that provides education and therapeutic clinical support to children and young adults ages 3-21 who are diagnosed with autism spectrum disorder or with severe emotional disturbance. The Organization was founded in 1957 and serves over 350 children annually on-site at its Philadelphia facility or in schools throughout the region, primarily in Philadelphia County. Green Tree receives revenue directly from school districts, other government-funded organizations and from third-party insurance payers so families do not pay tuition or any fees for services.
In 2011, in response to the increased demand for services and faced with facilities that were outdated, Green Tree decided to consolidate operations to one location. In order to fund the construction of a new building, the Organization entered into an agreement with a regional bank for a significant construction loan and utilized a large portion of its reserve fund. While Green Tree's operating cash flow at the time was sufficient to service its debt, its senior management team led by CEO Patricia Wellenbach and COO Julie Alleman, hired in 2013, uncovered a variety of organizational, billing and operational problems. The new management team addressed these issues expeditiously and a number of initiatives were implemented to improve operations and ensure that Green Tree was capable of continuing its mission.
However, in the fall of 2014 Community Behavioral Health, which funds the Organization's behavioral health services, announced a major region-wide change that mandated additional staff resources be devoted to the core behavioral health program, decreased the authorization approvals for services and unilaterally decreased the reimbursable rate for the program. The combination of these changes severely impacted Green Tree's liquidity and ability to service its debt on a standalone basis. As a result, management and the board decided to assess other options to help support the Organization.
SSG was retained by Green Tree in January 2015 to evaluate strategic alternatives. In addition to contacting a number of potential lenders to attempt to refinance the debt, SSG also conducted a comprehensive marketing process to non-profit and for-profit organizations to determine if there was an interest in creating a partnership. While multiple organizations engaged in discussions regarding an affiliation or acquisition, the ultimate party chosen was Salisbury, a Baltimore based behavioral health and special education organization with operations throughout Pennsylvania and Ohio. SSG's experience in identifying buyers and running a thorough sale process enabled key stakeholders to maximize value while preserving the legacy of Green Tree with its long history of providing services to special needs children in the Philadelphia area.
Other professionals who worked on the transaction include:
James M. Matour, Stephen J. Harmelin, Richard L. Fox, Jennifer P. Snyder and Catherine G. Pappas of Dilworth Paxson LLP, counsel to Green Tree School & Services;
Leo J. Pound of Pound Consulting Inc., financial advisor to Green Tree School & Services;
Brian P. Tierney and Aimee Tysarczyk of Brian Communications, public relations advisor to Green Tree School & Services;
Michael J. O'Donoghue of Wisler Pearlstine, LLP, counsel to Salisbury Management, Inc.; and
Scott M. Esterbrook and Brian M. Schenker of Reed Smith LLP, counsel to Green Tree's Lender.