SSG Advises Holliston, LLC in the Sale of Substantially all of its Assets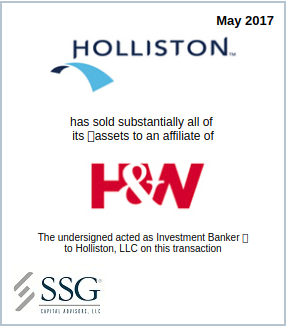 SSG Capital Advisors, LLC ("SSG") acted as the investment banker to Holliston, LLC ("Holliston" or the "Company") in the sale of substantially all of its assets to an affiliate of Henry and Wallace, LLC ("H&W"). The transaction closed in May 2017.
Holliston, founded in 1893 and based in Church Hill, Tennessee, is a leading value-added producer of coated cloth covering materials. The Company's products provide protection and security for books and other published materials as well as packaging and industrial products. Holliston serves a diverse, global customer base across a variety of end markets including publishing companies, bookbinders, government passport contractors and major industrial consumer brand companies. Due to its reputation for producing high quality products, the Company holds the distinction of being the sole supplier of U.S. passport covers for over 20 years.
Holliston had a long history of successful operations but sought new investors to assist with executing the next phase of its strategic plan. SSG ran a comprehensive marketing process and solicited offers from a broad universe of strategic and financial investors. The offer from H&W was the best option to provide a return to the Company's stakeholders and to provide a new platform for future growth.
H&W is an investment company with a portfolio primarily focused on the real estate and manufacturing industries.
Other professionals who worked on the transaction include:
Lawrence F. Flick II, Linsey B. Bozzelli, Margaret Anne Hill and YanLing (Winnie) Wang of Blank Rome LLP, counsel
to Holliston;
Jeffrey M. Wolf and Dina E. Conlin of Greenberg Traurig, LLP, counsel to Holliston's senior lender;
Walter N. Winchester of Winchester, Sellers, Foster & Steele, P.C., counsel to H&W;
Thomas X. Flaherty of VAI Inc., advisor to H&W; and
Donald F. Baty, Jr. and Mario A. Talerico of Honigman Miller Schwartz and Cohn LLP, counsel to H&W's lender.