SSG advises The Innovative Companies, LLC, in the sale of substantially all of its assets to an affiliate of Woodside Capital Partners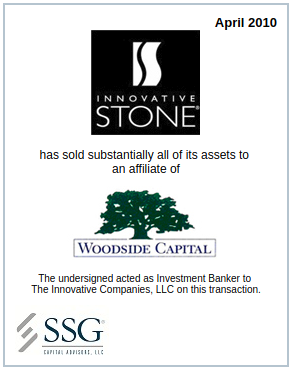 We are pleased to inform you that SSG Capital Advisors, LLC ("SSG") acted as the exclusive investment banker to The Innovative Companies, LLC ("Innovative" or the "Company") in the sale of its secured debt and the subsequent sale of certain assets to an affiliate of Woodside Capital Partners under Section 363 of the Bankruptcy Code in the U.S. Bankruptcy Court for the Eastern District of New York. The transaction closed in April 2010.
Innovative is one of the leading global suppliers of natural stone and architectural surfaces with the broadest selection of stone products and related services. Headquartered in the Northeast, the Company operates sourcing offices, manufacturing facilities, and warehouses throughout the United States and internationally.
The Company has distinct business units specializing in commercial, residential, stone fabrication, distribution, and furnish & install work. These business units enable Innovative to provide unparalleled services in the fabrication and installation of man-made and natural stone products used for dimensional stone, hard surface flooring and residential countertops. In addition to their products and services, the Company holds a reputation for having an impressive client roster which includes completed and ongoing projects for major hotels and casinos, professional sports stadiums, prominent national retailers, condominiums and restaurants, among others.
Woodside Capital Partners is focused on investing in middle market companies that can benefit from strategic redirection, operational enhancements or balance sheet realignments. Woodside Capital Partners has the ability to commit to a wide range of securities, industries, and investment amounts that allows maximum flexibility when structuring transactions.
SSG's experience identifying alternative solutions and buyers and in facilitating and navigating the sale of the senior debt and subsequent 363 sale, enabled all key stakeholders to maximize recoveries while preserving the jobs of the majority of Innovative's employees. If you would like to learn more about SSG, or would like to inquire about the Innovative transaction, please contact one of the SSG deal team members.
Other professionals who worked on the transaction include:
Peter Furman of Getzler Henrich & Associates LLC, chief restructuring officer to Debtor
Leslie A. Berkoff and Robert S. Cohen of Morritt Hock Hamroff & Horowitz LLP, counsel to Debtor
Howard Beltzer and Steven Navarro of Morgan, Lewis & Bockius LLP, counsel to Woodside Capital Partners and its affiliates
Jeffrey Prol and Marianna Udem of Lowenstein Sandler PC, counsel to the Creditors' Committee
About SSG Capital Advisors, LLC
SSG is an investment bank dedicated to representing middle market clients in restructuring situations, both in and out of bankruptcy proceedings. SSG provides its clients with comprehensive advisory services in the areas of mergers and acquisitions, financing, financial restructuring and valuation. SSG's professionals are well versed in all areas of restructuring and include former bankruptcy attorneys, senior credit officers, M&A professionals and commercial lenders.