SSG advises ISE Corporation in the sale of its assets to Bluways USA, Inc.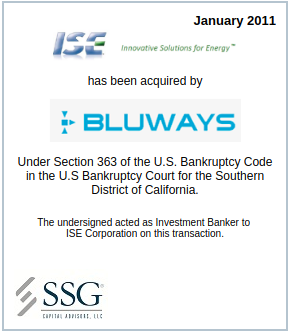 We are pleased to inform you that SSG Capital Advisors, LLC ("SSG") acted as investment banker to ISE Corporation ("ISE" or the "Company") in its sale to Bluways USA, Inc. ("Bluways") pursuant to Section 363 of the United States Bankruptcy Code in the U.S. Bankruptcy Court for the Southern District of California. The sale was approved on January 12, 2011 and the transaction closed on January 31, 2011.
ISE is a leading developer, integrator and distributor of hybrid-electric drive systems as well as energy storage systems specifically designed for heavy duty commercial vehicles, primarily those that make frequent starts and stops such as transit buses and heavy short-haul trucks. In the North American transit bus market, the Company is the only commercial provider of gasoline hybrid systems, a leading provider of zero-emission hybrid systems and a provider of diesel hybrid systems. Headquartered outside of San Diego, ISE has an installed base of more than 300 hybrid-electric drive systems (with approximately 14 million accumulated miles) and more than 200 energy storage systems. Transit authorities that utilize the Company's technology include those in Long Beach, Las Vegas, Chicago, San Diego, British Columbia and London.
Bluways, a subsidiary of Bluways NV, is a Belgian system integrator and supplier of hybrid electric drive systems and components for heavy-duty applications. The company is a premier manufacturer of high tech products in the field of drive technology and power control electronics for a wide variety of customers in the automobile industry.
Due to liquidity constraints, the Company filed for protection under Chapter 11 in the U.S. Bankruptcy Court for the Southern District of California on August 10, 2010. SSG along with Cabrillo Advisors LLC, was retained as the Company's investment banker to conduct a sale process pursuant to Section 363 of the U.S. Bankruptcy Code.
The sale process yielded six qualified bidders, but each bidder had interest in a different subset of the Company's assets. SSG managed through this complexity by holding several sub-auctions to create a consortium of buyers that could then compete with a separate party that had interest in the entire business. After many hours and several rounds of bidding that generated a multiple increase in sale proceeds, Bluways was deemed the highest and best bidder. Jobs were saved as the business was sold as a going concern.
Other professionals who worked on the transaction include:
Marc J. Winthrop, Garrick A. Hollander and Payam Khodadadi from Winthrop Couchot, Debtor's Counsel;
T. Scott Avila, Allen Soong and David W. Tiffany from CRG Partners, Debtor's Chief Restructuring Officer;
Channing Hamlet, Wade Hansen and Don Wanner from Cabrillo Advisors, Debtor's Co-Investment Banker;
Mark F. Thomann, Robert Aronoff, Craig Carothers and Myron J. Kassaraba from Pluritas, Debtor's Intellectual Property Advisory Firm;
Jeffrey N. Pomerantz and Shirley S. Cho from Pachulski Stang Ziehl & Jones, Counsel to Unsecured Creditors' Committee; and
William K. Creelman and Alexander Koles from BDO Consulting, Financial Advisor to Unsecured Creditors' Committee.
About SSG Capital Advisors, LLC SSG Capital Advisors, LLC ("SSG") is a nationally recognized boutique investment bank that assists middle market companies, as well as their stakeholders, complete special situation transactions. As a specialist in mergers and acquisitions, financial advisory, capital raises, financial restructurings and complex valuations, we offer the expertise our clients need in today's complex and fast-moving financial markets. As an independent firm with a clear focus, we offer the personal attention of our senior partners, entrepreneurial spirit, and agility in the marketplace that middle-market businesses expect. Since 2001, SSG has successfully completed over 170 special situation investment banking assignments on behalf of clients in North America and Europe.