SSG Advises Journal Register Company in the Sale of its Assets to an Affiliate of Alden Global Capital, LLC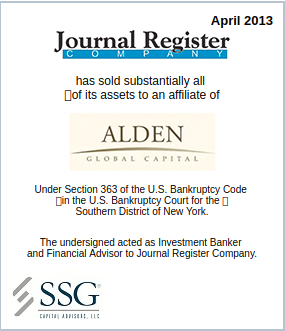 We are pleased to inform you that SSG Capital Advisors, LLC ("SSG") acted as the exclusive investment banker and financial advisor to Journal Register Company ("JRC" or the "Company") in the sale of substantially all of its assets to an affiliate of Alden Global Capital, LLC ("Alden"). The sale was effectuated through a Chapter 11 Section 363 process and was approved by the Bankruptcy Court in March, 2013 and closed in April, 2013.
JRC was established in 1997 and is a leading online and print provider of local news, sports, business and lifestyle information to an expansive customer base across the country. The Company owns and operates 18 daily newspapers, 127 non-daily newspapers, 237 individual websites, 38 smart phone and digital applications and 19 mobile sites. Over the years, JRC has been transitioning its business model from a predominantly print platform to a "Digital First" platform. The Company's commitment to being Digital First, entrepreneurial-driven and customer-focused on the media platform of the customer's choice has allowed JRC to grow into a multi-regional, multi-platform, industry leading media company. Furthermore, JRC's geographically clustered base of operations enables it to reach a broad spectrum of readers and consumers throughout Greater Philadelphia, Michigan and Greater Detroit, Connecticut, Greater Cleveland and the Capital Saratoga and Mid-Hudson regions of New York State. JRC maintains corporate headquarters in New York, NY and Fairless Hills, PA.
In order to restructure its balance sheet and shed legacy liabilities, JRC determined that a sale of its assets was the best path forward. The Company filed for Chapter 11 protection in the U.S. Bankruptcy Court for the Southern District of New York in September, 2012 to start and then effectuate the sale process. Alden, which acquired substantially all of the senior debt and equity of JRC in mid-2011, agreed to serve as the stalking horse bidder. SSG was retained as the Company's exclusive investment banker for the purpose of marketing the business and soliciting competing offers to the proposed stalking horse bid. In addition to its role as investment banker, SSG also served as JRC's exclusive financial advisor throughout the sale process. Alden's stalking horse offer was ultimately the highest and best price for substantially all of the assets of JRC and the sale closed in early April, 2013. The Chapter 11 sale process enabled all key stakeholders to maximize the value of the Company while preserving the jobs of substantially all of JRC's employees.
Alden Global Capital, LLC is an investment manager focusing on investments in U.S. and foreign distressed securities as well as emerging market economies. The business was established in 2007 to manage a substantial portfolio of public and private securities. Alden and its affiliates have a global presence with offices in New York, London, Dubai, Mumbai, New Jersey and Texas.
Other professionals who worked on the transaction include:
Neil Herman, James Garrity, Steven Navarro, Matthew Furlong, Jonathan Fritts, J. J. Broderick, Brian Dougherty, Emmeline Liu, Rachel Mauceri, Edward Stone, Patrick Fleming and Matthew McNamara of Morgan, Lewis & Bockius LLP, counsel to Journal Register Company;
Michael Nestor, Robert Brady, Kenneth Enos and Andrew Magaziner of Young Conaway Stargatt & Taylor, LLP, counsel to Journal Register Company;
Lisa Beckerman, David D'Urso, Arik Preis, Arun Kurichety, Howard Jacobson, Lawrence Levien, Lauren Helen Leyden, Timothy Clark and Anastasia Kerdock of Akin Gump Strauss Hauer & Feld LLP, counsel to Alden Global Capital, LLC;
Bradley Scher of Ocean Ridge Capital Advisors, independent director to Journal Register Company;
William Stickney and Meghan Jodz of Grant Thornton LLP, audit and tax advisor to Journal Register Company;
Jonathan Helfat and James Cretella of Otterbourg, Steindler, Houston and Rosen, P.C., counsel to DIP Lender;
Edward Zujkowski and Michele Ross of Emmet, Marvin & Martin, LLP, counsel to Journal Register Company senior term loans' agent;
Gerald Bender, Terence Watson, Richard Corbi and Michael Savetsky of Lowenstein Sandler PC, counsel to the Unsecured Creditors' Committee; and
Samuel Star, Christopher Nicholls, Steven Joffe, Christopher Hamilton and Kenneth Cowan of FTI Consulting, Inc., financial advisors to the Unsecured Creditors' Committee.