SSG Advises KARLEE Company, Inc. in the Sale of Substantially All of its Assets to an Affiliate of Resilience Capital Partners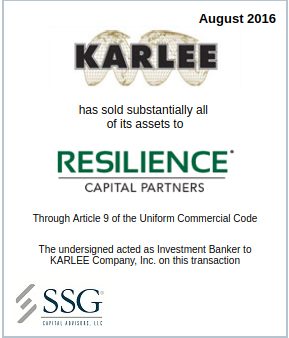 SSG Advisors, LLC ("SSG") acted as the co-investment banker to KARLEE Company, Inc. ("KARLEE" or the "Company") in the sale of substantially all of its assets to an affiliate of Resilience Capital Partners ("Resilience"). The sale was effectuated under UCC Article 9 and closed in August 2016.
KARLEE specializes in high complexity, close tolerance sheet metal fabrication, machined parts and assemblies for the aerospace, communications, commercial goods, defense and medical equipment industries. The Company offers customers a full range of services from e-business to total supply chain management, prototyping and concurrent engineering.
KARLEE had historically performed well, generating enough cash flow to meet its debt service requirements. However, in 2013, the Company encountered issues during an ERP system conversion which led to strained liquidity. SSG was retained by KARLEE in March 2016 to evaluate strategic alternatives and conduct a comprehensive marketing process to strategic and financial buyers in order to structure the optimal solution for the Company. Several parties engaged in a thorough review of the business and submitted offers for KARLEE. Resilience's offer to acquire substantially all of KARLEE's assets, as well as provide the appropriate capital going forward, should allow KARLEE to reach its full growth potential. SSG's experience in identifying buyers and running a thorough and expedited sale process enabled key stakeholders to maximize value.
The acquisition of KARLEE will complement Resilience's portfolio company, Porter's Group, LLC, a leading provider of metal fabrication solutions serving the security, military, mining, heavy equipment and trucking industries. Porter's Group is also the largest metal fabricator of ATMs in North America. Based in Cleveland, Ohio, Resilience invests in niche-oriented manufacturing, value added distribution and business service companies with sustainable market positions and clear paths to cash flow improvement.
Other professionals who worked on the transaction include:
Jay H. Krasoff and Scott W. Johnson of Chiron Financial, LLC, co-investment banker to KARLEE Company, Inc.;
John J. Kane and Jason B. Binford of Kane Russell Coleman & Logan PC, counsel to KARLEE Company, Inc.;
Bill Patterson, Chris Lang and Jon Daniels of Bridgepoint Consulting, LLC, Chief Restructuring Officer and Financial Advisor to KARLEE Company, Inc.;
Melissa S. Hayward of Franklin Hayward LLP, counsel to the KARLEE Company, Inc. equity holders;
Nicholas S. Pappas of Bruner & Pappas, L.L.P., counsel to Southside Bank;
Daniel C. Garner of Hunton & Williams LLP, counsel to Triumph Commercial Finance; and
William R. Stewart, Jr., Ari M. Friedman, Catherine E. Arney, Jennifer M. Hayes, Christopher M. Matgouranis, Todd R. Miller and Mark D. Tupa, Jr. of Jones Day, counsel to Resilience Capital Partners.