SSG Advises Kittle's Home Furnishings Center, Inc. in the Sale of its Columbus Operation to American Signature, Inc.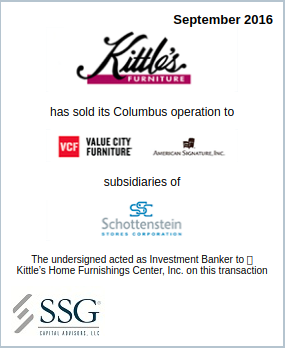 SSG Capital Advisors, LLC ("SSG") acted as the investment banker to Kittle's Home Furnishings Center, Inc. ("Kittle's" or the "Company") on the sale of its Columbus, Ohio operation to American Signature, Inc. ("American Signature"), a subsidiary of the Schottenstein Stores Corporation ("Schottenstein"). The transaction closed in September 2016.
Kittle's is a promotional to high-end furniture retailer headquartered in Indianapolis, Indiana. In 1996, the Company embarked on a strategy to establish a leading position in the Columbus market by opening multiple retail locations and a distribution center. The retail stores are recognized destinations for a wide selection of furniture and bedding at multiple price points offered by a trained staff known for exemplary service.
While the Columbus operation was performing well, Kittle's was open to a sale in order to focus entirely on its business in Indiana. SSG was retained by the Company for the purposes of marketing the Columbus operation and soliciting offers from a select universe of strategic buyers with a compatible corporate culture. The offer from American Signature, a subsidiary of Schottenstein, was accepted to maximize value for the Company and its stakeholders and assure a bright future for the Company's Ohio employees.
American Signature designs, manufactures and sells residential and commercial furniture. It is the parent company of the retail brands American Signature Furniture and Value City Furniture with locations throughout the East Coast, Midwest and Southeastern United States.
Schottenstein, through its subsidiaries, owns and operates discount department stores, basement and shoe warehouse stores in the United States and Canada. It also operates furniture stores, shopping centers, and malls.