SSG Advises Last Call Holdings, LLC in the Sale of Substantially all of its Assets to an Affiliate of Kelly Investment Group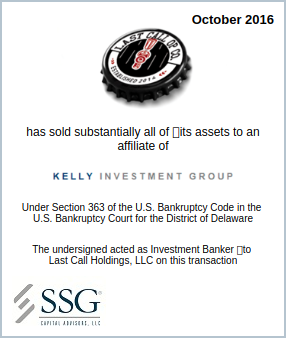 SSG Capital Advisors, LLC ("SSG") acted as the investment banker to Last Call Holdings, LLC ("Last Call" or the "Company") in the sale of substantially all of its assets to an affiliate of Kelly Investment Group ("Kelly"). The sale was effectuated through a Chapter 11 Section 363 process in the U.S. Bankruptcy Court for the District of Delaware. The transaction closed in October 2016.
Last Call operates two uniquely positioned and complementary concepts with successful track records in the social destination casual dining restaurant space. The Fox & Hound concept, which includes Bailey's Sports Grille in select markets, offers guests an energetic and social atmosphere with state-of-the-art audio visual entertainment, multiple billiards tables and additional skill games. The Champps concept offers guests a comfortable atmosphere that promotes social interaction and is positioned as an energetic, premium sports bar and grill with an extensive menu of freshly prepared "from scratch" items.
After being acquired out of bankruptcy in early 2014, Last Call began to implement an operational restructuring plan which included store remodeling, brand conversions, rationalized menus and streamlined operations. A revised plan was implemented in Q4 2014, focused on enhancing the Company's marketing capabilities and improving four wall performance. After considerable success in 2015, constrained liquidity and slower foot traffic led to a decline in the Company's performance during the first half of 2016.
In order to continue operations through the slow summer season, the Company needed to secure additional financing. SSG was retained in June 2016 to evaluate strategic alternatives and was able to facilitate a sale of the senior secured debt to Kelly, a strategic purchaser that was also willing to provide debtor-in-possession financing. The Company filed for Chapter 11 protection in August 2016. SSG conducted an expedited and comprehensive marketing process, which generated a competitive environment at the auction where a bid from Kelly was ultimately deemed the highest and best offer. SSG's ability to solicit offers in a fast-tracked process and its experience with Section 363 sale processes enabled the Company to maximize value while preserving jobs and maintaining the loyalty of vendors and customers.
Other professionals who worked on the transaction include:
Nancy A. Mitchell, Nancy A. Peterman, John D. Elrod, David D. Cleary, Dennis A. Meloro and Matthew L. Hinker of Greenberg Traurig, LLP, counsel to Last Call Holdings, LLC;
Roy Messing, B. Lee Fletcher, Richard Altman and John L. Rapisardi of Ankura Consulting Group, Chief Restructuring Officer and financial advisor to Last Call Holdings, LLC;
Jonathan M. Tibus of Alvarez & Marsal, interim CEO and financial advisor to Last Call Holdings, LLC;
Bradford J. Sandler, Jeffrey N. Pomerantz, John W. Lucas, Colin R. Robinson and Steven W. Golden of Pachulski Stang Ziehl & Jones LLP, counsel to the Unsecured Creditors Committee;
Randall L. Klein, David E. Morrison and Prisca M. Kim of Goldberg Kohn Ltd., counsel to Kelly Investment Group;
Gregory T. Donilon of Pinckney, Weidinger, Urban & Joyce LLC, counsel to Kelly Investment Group; and
Morton R. Branzburg, Domenic E. Pacitti and Michael P. Rittinger of Klehr Harrison Harvey Branzburg LLP, counsel to the minority lender to Last Call Holdings, LLC.