SSG Advises Le Pain Quotidien USA in the Sale of Select U.S. Assets to Aurify Brands, LLC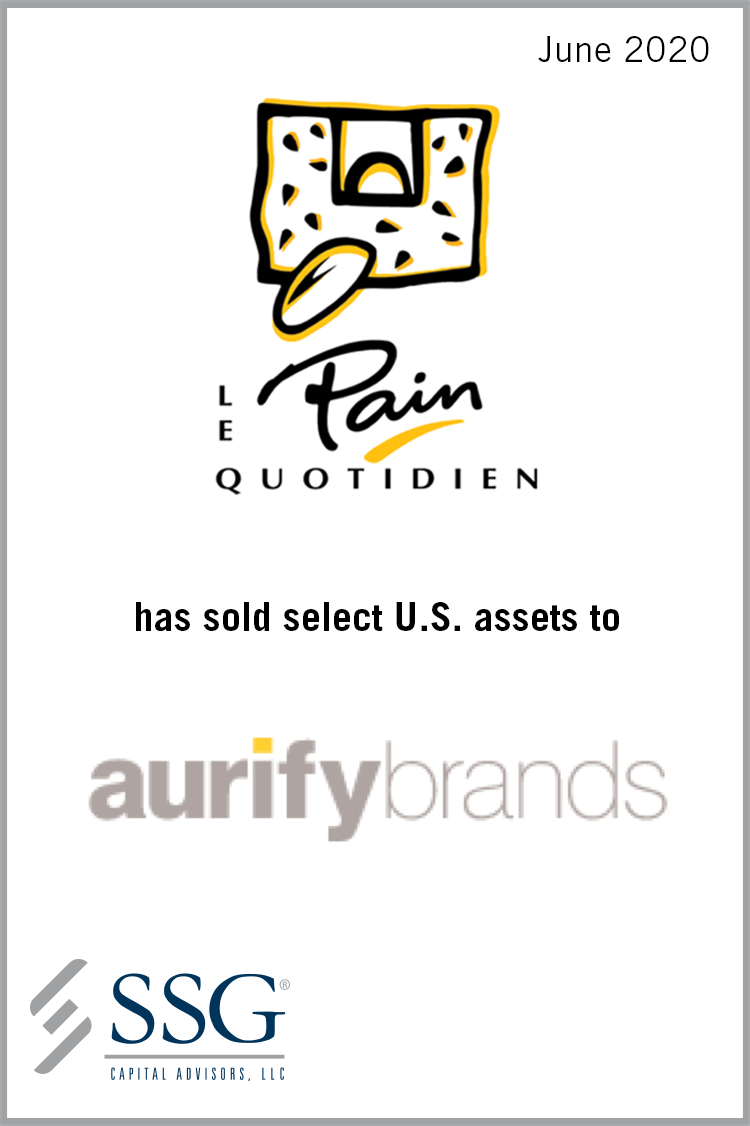 SSG Capital Advisors, LLC ("SSG") acted as the investment banker to PQ New York, Inc. and Subsidiaries d/b/a Le Pain Quotidien USA ("LPQ U.S." or the "Company") in the sale of select U.S. assets to Aurify Brands, LLC ("Aurify Brands"). The sale was effectuated through a Chapter 11 Section 363 process in the U.S. Bankruptcy Court for the District of Delaware. The transaction closed in June 2020.
Le Pain Quotidien ("LPQ") is a Belgium-based, international chain of bakery-café restaurants that blends elements of casual restaurant dining and grab-and-go service. LPQ entered the U.S. market in 1997 by establishing PQ New York, Inc., operating 98 wholly-owned U.S.-based restaurants.
LPQ experienced years of success and growth in the U.S. market until revenue and earnings began to decline as the result of operational and management changes. The Company was in the process of implementing restructuring initiatives when the COVID-19 outbreak caused a complete shutdown of all locations. LPQ's U.S. financial situation quickly deteriorated, inhibiting its ability to achieve the restructuring objectives and threatening its survival.
SSG was retained in March 2020 with just a few weeks to find a going concern buyer and avoid liquidation. SSG's accelerated marketing process produced multiple bids despite several obstacles including the pandemic lockdown, the Company's total lack of liquidity, limited access to diligence, and contemporaneous European restructuring efforts by the Belgian parent. Aurify Brands successfully negotiated for the U.S. franchising rights, provided interim and debtor in possession financing and acquired the Company in a private Section 363 sale. SSG's special situations expertise and significant experience in the food and beverage industry enabled LPQ U.S. to complete a complex and extremely challenging expedited transaction that maximized value for all stakeholders.
Aurify Brands is an innovative New York City-based hospitality company that creates, grows, and operates networks of category-leading fast-casual restaurants, including The Little Beet, Melt Shop, Fields Good Chicken, and The Little Beet Table.
Other professionals who worked on the transaction include:
• Matthew R. Kahn and Bruce Revzin, independent directors of PQ New York, Inc.;
• Mark D. Collins, Mark A. Kurtz, Michael J. Merchant, Jason M. Madron, Brendan J. Schlauch, Sarah E. Silveira, Megan Kenney, Jake M. Crosetto, Philip K. Micha and Kate Peterson of Richards, Layton & Finger P.A., counsel to PQ New York, Inc.;
• Steven J. Fleming, Chief Restructuring Officer and Brian Koluch, David Ihn and Jordan Aro of PricewaterhouseCoopers LLP, financial advisor to PQ New York, Inc.;
• William A. Guerrieri of White & Case LLP, counsel to the PQ New York, Inc. equity holders;
• Yves Liénart of Emcanila, Chief Restructuring Officer to PQ Licensing S.A.;
• Yves Brulard of DBB Law and Yannick Alsteens of Novalis Avocats, counsel to the Chief Restructuring Officer of PQ Licensing S.A.;
• Cédric Alter of Janson Baugniet and Isabelle Didier of CID & Associés, administrative justices to PQ Licensing S.A.;
• Steven J. Reisman, Wade A. Glover, Evan S. Borenstein, Paul Rosen, Jerry L. Hall and Cindi M. Giglio* of Katten Muchin Rosenman LLP, counsel to Aurify Brands, LLC;
• Domenic E. Pacitti and Morton R. Branzburg of Klehr Harrison Harvey Branzburg LLP, counsel to Aurify Brands, LLC;
• Cynthia Romano of CohnReznick Advisory, financial advisor to Aurify Brands, LLC; and
• Robert J. Gayda and Catherine V. LoTempio of Seward & Kissel LLP and Eric J. Monzo and Brya M. Keilson of Morris James LLP, counsel to the Official Committee of Unsecured Creditors.
*As of June 2020, Associate General Counsel at Gordon Brothers