SSG advises Lehigh Coal & Navigation in the sale of substantially all of its assets to affiliates of BET Investments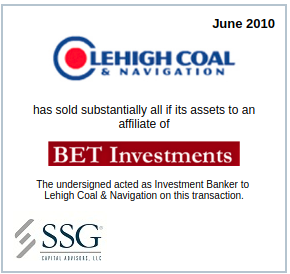 We are pleased to inform you that SSG Capital Advisors, LLC ("SSG") acted as the exclusive investment banker to Lehigh Coal & Navigation ("LCN" or the "Company") in its sale to affiliates of BET Investments ("BET") under Section 363 of the U.S. Bankruptcy Code in the U.S. Bankruptcy Court for the Middle District of Pennsylvania.
LCN operates one of the largest contiguous anthracite coal mines in North America. The Company's operations are located in Schuylkill and Carbon Counties, Pennsylvania, and spans over 8,000 acres. The Company, often referred to as "Old Company's Lehigh", is the successor to one of America's oldest companies and traces its roots to the eighteenth century.
SSG was retained by LCN for the purpose of marketing the Company for sale in its Chapter 11 bankruptcy proceeding. SSG solicited competing offers to BET's proposed stalking horse bid including the assumption of substantial liabilities. As part of the marketing process, SSG contacted over 150 strategic and financial buyers, including buyers in Europe, Asia and South America. Ultimately, BET's stalking horse offer was the highest and best price for substantially all of the assets of LCN. The sale was approved by the Bankruptcy Court and closed in June 2010. SSG's experience navigating the Chapter 11 proceeding and the sale enabled key stakeholders to maximize recoveries while preserving a substantial regional employer.
If you would like to learn more about SSG, or would like to inquire about the Lehigh Coal & Navigation transaction, please contact one of the SSG deal team members.
Other professionals who worked on the transaction include:
Lawrence G. McMichael, Peter C. Hughes, Roger F. Woods, Jennifer L. Maleski, Fenita L. Moore and Phillip A. Italiano of Dilworth Paxson LLP, counsel to the Debtor;
Jeffrey Kurtzman, Stephan L. Cutler, Michael P. Rittinger and Michael P. Zanan of Klehr, Harrison, Harvey, Branzburg, counsel to BET Investments and its affiliates; and
John D. Demmy, John C. Kilgannon and Marnie E. Simon of Stevens and Lee, PC, counsel to the Creditors' Committee
About SSG Capital Advisors, LLC
SSG is a leading boutique investment bank dedicated to representing middle market clients in restructuring and special situations, both in and out of bankruptcy proceedings. SSG provides its clients with comprehensive advisory services in the areas of mergers and acquisitions, capital raises, financial restructuring and valuation. SSG's professionals have completed over 160 transactions since 2001 and are leaders in the industry.