SSG Advises Lower Bucks Hospital in its Chapter 11 Restructuring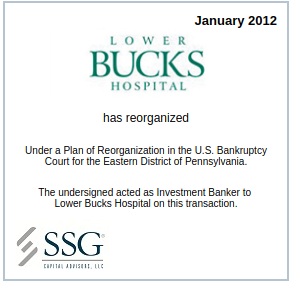 We are pleased to inform you that SSG Capital Advisors, LLC ("SSG") acted as the exclusive investment banker to Lower Bucks Hospital ("LBH" or the "Hospital") in its emergence from Chapter 11 Bankruptcy through a Plan of Reorganization (the "Plan").
Founded in 1954, LBH is a community hospital located in Bristol, Pennsylvania. The Hospital offers a full range of acute, sub-acute, ambulatory and related services including cardiac catheterization, open heart surgery, diagnostic imaging, industrial health, mental health, home health and orthopedics. LBH is licensed to operate 186 beds and maintains a 36-acre medical campus along with an ambulatory surgery center and a health & wellness center.
Starting in 2007, the Hospital experienced a decline in net patient service revenue due to a variety of factors. LBH sustained significant operating losses and, as a result, was forced to use a substantial amount of its working capital, including cash and investments, for capital expenditures, pension obligations and annual debt service. LBH engaged SSG in October 2009 to explore strategic alternatives including the sale of substantially all of the Hospital's assets as a going concern, raising additional debt or restructuring the Hospital's $25 million of secured debt and $35 million of underfunded pension obligations. Unable to continue making the required principal payments on its secured debt, the Hospital and its subsidiaries filed for Chapter 11 in January 2010.
After marketing the Hospital and receiving several indications of interest, LBH's management and professionals began to explore the potential to issue new debt in the form of long term bonds collateralized by recurring cash flow from legislatively approved grants from Bucks County (the "County") equal to one-half of the newly approved table gaming assessment received by the County from the nearby Parx Casino. That new debt would be used to fund a stand alone Plan which would allow the Hospital to remain a not for profit and independent community full acute care facility. LBH's professionals negotiated with all stakeholders during the lengthy engagement, including the Pension Benefit Guaranty Corporation, the Indenture Trustee for the Bondholders and the Creditors' Committee, culminating in a consensual Plan. The new $14 million bond offering through the Bucks County Redevelopment Authority, underwritten by PNC Capital Markets, along with a new mortgage on the Hospital's ambulatory surgery center and a portion of cash on hand were the sources of funding for the Plan which was confirmed in the U.S. Bankruptcy Court for the Eastern District of Pennsylvania on December 15, 2011 and went effective on January 19, 2012.
Other professionals who worked on the transaction include:
Al Mezzaroba, CEO and CRO of Lower Bucks Hospital;
Jeffrey C. Hampton, Adam H. Isenberg, Robyn F. Pollack, Monique A. Bair and Melissa W. Rand of Saul Ewing LLP, counsel to Lower Bucks Hospital;
Robert D. Katz of Executive Sounding Board Associates Inc., financial advisor to Lower Bucks Hospital;
Regina Stango Kelbon and Josef W. Mintz of Blank Rome LLP, counsel to the Unsecured Creditors Committee;
Richard S. Infantino, Daniel S. Polsky and John Auyeung of Deloitte Financial Advisory Services, LLP, financial advisor to the Unsecured Creditors Committee;
Stephanie Wickouski, Christine Cesare and Thomas J. Schell of Bryan Cave, counsel to the Indenture Trustee; and
Michael E. Imber and Chuck Salvo of Grant Thorton LLP, financial advisor to the Indenture Trustee.
About SSG Capital Advisors, LLC
SSG is a leading independent boutique investment bank that assists middle market companies, as well as their stakeholders, complete special situation transactions. As a specialist in mergers and acquisitions, financial advisory, capital raises, financial restructurings and complex valuations, we offer the expertise our clients need in today's complex and fast-moving financial markets. As a partner-owned firm with a clear focus, we offer the personal attention of our senior partners, entrepreneurial spirit and agility in the marketplace that middle-market businesses require. Since 2001, SSG has successfully completed over 180 special situation investment banking assignments on behalf of clients in North America and Europe.