SSG advises Lower Bucks Hospital in the sale of its assets to Prime Healthcare Services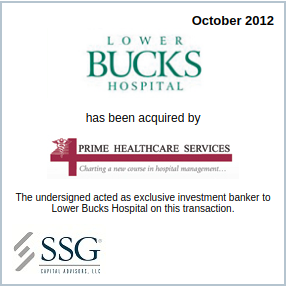 We are pleased to inform you that SSG Capital Advisors, LLC ("SSG") acted as the exclusive investment banker to Lower Bucks Hospital ("LBH" or the "Hospital") in the sale of substantially all of its and certain of its affiliates' assets to Prime Healthcare Services ("Prime"). The sale closed in October 2012.
Founded in 1954, LBH is a community hospital located in Bristol, PA. The Hospital offers a full range of acute, sub-acute, ambulatory and related services including cardiac catheterization, open heart surgery, diagnostic imaging, industrial health, mental health, home health and orthopedics. LBH is licensed to operate 186 beds and maintains a 36-acre medical campus along with an ambulatory surgery center and a health and wellness center.
LBH emerged from a two-year bankruptcy in early 2012, but confronted some unanticipated operating challenges a few months after emergence. SSG was re-retained in May 2012 as the Hospital's exclusive investment banker for the purpose of running an expedited sale process to a targeted list of strategic acquirers. Early on in the process, SSG and management identified Prime as a potential buyer, due to its experience in purchasing distressed hospitals and its recent successful acquisition of Roxborough Memorial Hospital in Philadelphia earlier this year. Prime's acquisition of LBH included the assumption of the Hospital's liabilities, Prime's agreement to hire substantially all of the employees, maintain its union contracts and invest approximately $10 million in the facility within a two year period. The sale of LBH as a not-for-profit hospital to Prime, a for-profit buyer, was subject to the approval of the Bucks County Orphans Court prior to closing.
Other professionals who worked on the transaction include:
Al Mezzaroba, Chief Executive Officer and Allen W. Toadvine, General Counsel of Lower Bucks Hospital;
Jeffrey C. Hampton, Adam H. Isenberg, Richard T. Frazier, Ryan R. Gager and Monique A. Bair of Saul Ewing LLP, counsel to Lower Bucks Hospital; and
Michael J. Sarrao, Vice President and General Counsel of Prime Healthcare Services.
About SSG Capital Advisors, LLC
SSG Capital Advisors is a leading independent investment bank that assists middle-market companies in completing special situation transactions. SSG provides its clients with comprehensive advisory services in the areas of mergers and acquisitions, private placements, financial advisory, financial restructurings and valuations. We have a proven track record of over 200 transactions in North America and Europe and are one of the national leaders in the industry.