SSG Advises Mark Group, Inc. in the Sale of Certain Assets to ESB Holdings, LLC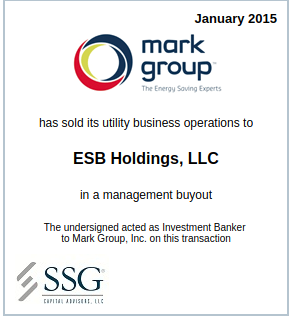 SSG Capital Advisors, LLC ("SSG") acted as the investment banker to Mark Group, Inc. ("Mark Group" or the "Company") in the sale of its utility business operations to ESB Holdings, LLC ("ESB") in a management buyout. The transaction closed in January 2015.
Mark Group's parent company is based in the U.K., with operations in Australia, New Zealand and the United States. Headquartered in PA, Mark Group was a leading provider of energy efficiency services for residential, utility and commercial customers. With a focus on whole-home performance, the Company identified the appropriate mix of products and services to help maximize safety, health, comfort and efficiency. Mark Group's market area consisted of over 3.7 million households in the Northeastern United States.
While Mark Group showed significant growth in revenue since its founding in 2010, the Company's growth trajectory was hindered in 2014 due to insufficient lead generation. Slow revenue growth, an inability to leverage fixed overhead costs due to the lower than expected sales levels and difficulties controlling margins contributed to the Company's constrained liquidity position and required ongoing capital infusions from its parent company. The U.K.-based parent was implementing its own cost reduction efforts and was unable to provide additional funding. Mark Group determined that an immediate liquidity solution was necessary.
SSG was retained in October 2014 by Mark Group to explore strategic options. Given that a third party investor was not a viable option due to the time and diligence it would require to consummate a transaction, SSG began to explore alternatives to a broad marketing process. Mark Group's management team, led by Jeff Bartos, worked with SSG to spearhead an effort to purchase the Company's utility business operations on behalf of ESB. With the assistance of its advisors, Management was ultimately able to negotiate an agreement with the Company's U.K. parent that maximized value for all stakeholders.
Other professionals who worked on the transaction include:
Michael B. Schaedle, James R. Staiger and Shlomo Troodler of Blank Rome LLP, counsel to Mark Group, Inc.; and
Edward A. Phillips of EisnerAmper LLP, financial advisor to Mark Group, Inc.