SSG advises The Matlet Group LLC in the private placement of a $20 million senior secured credit facility and the restructuring of its balance sheet obligations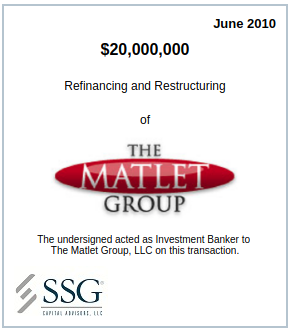 We are pleased to inform you that SSG Capital Advisors, LLC ("SSG") acted as the exclusive investment banker to The Matlet Group LLC ("Matlet" or the "Company") in the private placement of a $20 million senior secured credit facility and the restructuring of its balance sheet obligations. The transaction closed in June 2010.
The Matlet Group LLC, headquartered in Pawtucket, Rhode Island, is a premier printing company serving the commercial printing and fulfillment markets. Acquired from Quebecor in 2005, Matlet is a Minority Business Enterprise which operates through three subsidiaries: Central Florida Press (a menu printing business servicing the restaurant industry), Packaging Graphics (a manufacturer of point-of-purchase packaging materials for consumer goods) and NOVA Marketing Services (a full services fulfillment company). Among these three divisions, Matlet offers a diverse product line that includes high-end commercial printing (specialty catalogs, brochures and inserts), specialty products (restaurant menus and playing cards), specialty packaging (blister packs, folding cartons and clamshells) and full service fulfillment/mailing services. The Company's breadth of product offering as well as its reputation for delivering high quality and custom made solutions has allowed it to become the supplier of choice for blue-chip customers that operate in a wide range of industries.
The recent recession had a negative impact on the commercial printing and fulfillment industries with overall budget reductions across Matlet's client base. Given the resultant impact on profitability along with debt levels that remained from the management led buyout in FY 2005 and a refinancing that occurred under better economic conditions in FY 2007, the Company sought a means to reduce leverage and strengthen its balance sheet.
SSG was retained by Matlet to explore strategic alternatives, including a balance sheet recapitalization. SSG lined up a new lender, Cole Taylor Business Credit, to provide a revolver and term loan facility that enabled the Company to repay senior debt. SSG, working closely with company management and their consultant, CRG Partners Group, LLC, helped facilitate negotiations amongst key stakeholders that further enabled the company to successfully restructure its remaining debt and equity.
According to Matlet CEO and President, Gary Stiffler, "Matlet's future looks bright – we are well positioned to expand and grow, and we couldn't have done it without the professionals at SSG and CRG, two talented, dedicated groups who worked well together and helped put us back on track in these tough economic times."
If you would like to learn more about SSG or inquire about the Matlet Company transaction, please contact one of the SSG deal team members.
Other professionals who worked on the transaction include:
Scott Avila and Matt Pascucci, CRG Partners Group, LLC;
Charles R. Bennett, Hanify & King, P.C.;
Joseph F. Whinery and John Wolfe, Cameron & Mittleman LLP;
Marvin Miller, Winston and Strawn LLP;
Brian M. Devling, Bryan Cave LLP;
Lee Podair and Gilbert Backenroth, Hahn and Hessen LLP
About SSG Capital Advisors, LLC
SSG is a leading boutique investment bank dedicated to representing middle market clients in restructuring and special situations, both in and out of bankruptcy proceedings. SSG provides its clients with comprehensive advisory services in the areas of mergers and acquisitions, capital raises, financial restructuring and valuation. SSG's professionals have completed over 160 transactions since 2001 and are leaders in the industry.